The celebration of Halloween, which has its roots in old Celtic customs, has developed through the years into a joyous occasion that is widely observed all over the world. The practice of donning a costume for the occasion of Halloween is widely considered to be one of the most exciting components of the holiday, and in recent years, the custom of donning Halloween costumes together as a group has seen explosive growth in popularity. During the scary season, group costumes provide an original and entertaining way for friends, family, or coworkers to gather together, promoting a sense of solidarity and creativity.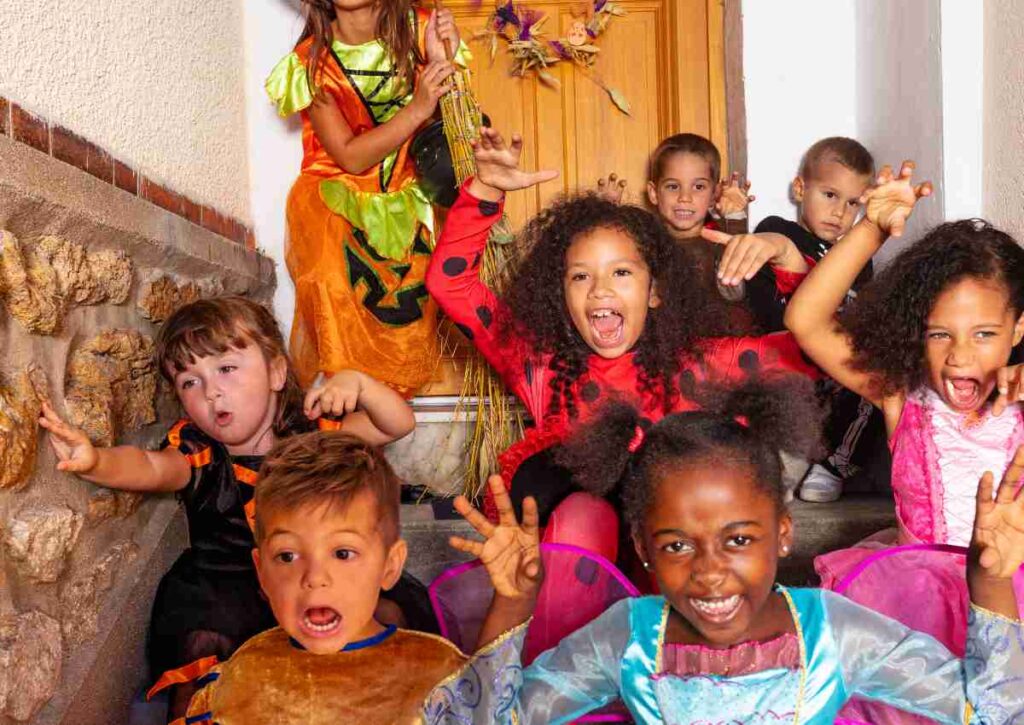 The Importance of Creativity and Fun in Coming Up with Ideas for Group Costumes
Although the purpose of Halloween is traditionally to terrify or thrill people, group costume ideas emphasize the importance of creative expression and having a good time. This method allows participants to show off their imaginative side while also highlighting the topics or hobbies they have in common humorously. The delight of creating and wearing these costumes can be an experience that is both memorable and connecting. This is true whether it is a group of friends reinventing legendary superheroes or a family channeling historical people. This article will give you a choice of traditional and original ideas for group costumes to use as a starting point for planning your next Halloween party.
More Post: What costume are you going to wear for Halloween?
Classic Group Costume Ideas
Superheroes and villains
Marvel or DC Superheroes

: Embrace the power of comic books by dressing up as beloved Marvel or DC superheroes like Spider-Man, Iron Man, Wonder Woman, or Black Panther. Unleash your inner hero and unite with your group to save the day.

Classic Supervillains like the Joker or Catwoman

: For those who prefer the darker side of the comic book world, iconic supervillains like the Joker, Catwoman, or the Riddler offer a mischievously entertaining theme.
Movie or TV show themes
Star Wars Characters

: Journey to a galaxy far, far away by becoming Jedi knights, Sith lords, droids, or iconic characters like Luke Skywalker, Princess Leia, or Darth Vader. May the Force be with your group!

Harry Potter Hogwarts Students

: Step into the enchanting world of Hogwarts and embody the magic of Harry Potter by dressing up as wizards, witches, or iconic characters like Harry, Hermione, and Ron. Don't forget your wands!
Historical Figures
Famous Explorers like Lewis and Clark

: Embark on a historical adventure by portraying legendary explorers like Lewis and Clark. Explore new frontiers and share tales of your discoveries with fellow Halloween enthusiasts.

Iconic Historical Groups like the Beatles

: Travel back in time to the swinging 60s and emulate the legendary music group, the Beatles. With their distinctive fashion and timeless music, your group will be a blast from the past.
These time-honored suggestions for costumes worn by groups are an excellent place to begin planning your Halloween celebrations. There is something that will appeal to everyone's interests, whether they be superheroes, old movies, or historical personalities. Let's look at even more original and entertaining ideas for Halloween costumes that groups might wear to stand out.
More Post: Agent Peggy Carter Costume
Creative and fun group costume ideas
Food and Beverage
Sushi Rolls

: Roll into the Halloween party with delectable sushi rolls! Each group member can represent a different type of sushi, complete with seaweed wraps, rice, and imaginative fish or veggie fillings. Don't forget to carry chopsticks as props to complete the look.

Different Flavors of Ice Cream

: Create a sweet sensation by creating various flavors of ice cream. Each member can choose their favorite flavor, don colorful outfits resembling scoops of ice cream, and carry cones as accessories. This group costume idea is sure to bring smiles to everyone's faces.
Mythical Creatures
Greek Mythology Characters (e.g., Greek Gods and Goddesses)

: Step into the realm of ancient Greece by embodying legendary gods and goddesses such as Zeus, Athena, Aphrodite, or Apollo. Use elaborate costumes and props like thunderbolts or laurel wreaths to add authenticity to your divine presence.

Fantasy Creatures like Unicorns and Dragons

: Let your imagination soar by transforming into mythical creatures. Some members can be enchanting unicorns with sparkling horns and flowing manes, while others can take on the fiery persona of dragons with scales and wings. This group theme will add a touch of magic to your Halloween night.
Puns and wordplay
"Cereal Killers" (Cereal Boxes with Weapons)

: Inject humor into your Halloween celebration with this witty and pun-filled costume idea. Dress up as cereal boxes, complete with fake weapons sticking out, turning the mundane into the mysterious. This humorous twist on classic cereal boxes will have everyone laughing.

"French Kiss" (French-themed Costumes with Hershey's Kisses)

: Bring a touch of romance to your Halloween gathering with this playful idea. Dress as iconic French figures like artists, chefs, or even the Eiffel Tower, and complete your look with Hershey's Kisses accessories. It's a sweet and clever way to add a French twist to the holiday.
Group Costume Themes for Families
Classic Fairy Tale Characters
Cinderella, Snow White, and Prince Charming

: Transport your family into the enchanting world of classic fairy tales. Have your little ones become Cinderella and Snow White, while parents can portray the dashing Prince Charming. This theme encourages timeless storytelling and fosters a sense of wonder.

The Three Little Pigs and the Big Bad Wolf

: Create a fun and interactive family group costume by reenacting the story of the Three Little Pigs and the Big Bad Wolf. Children can be the adorable little pigs, while parents can take on the role of the naughty wolf. This theme allows for creativity and memorable family moments.
Storybook Characters
Dr. Seuss Characters (e.g., Cat in the Hat, Thing 1 and Thing 2)

: Dive into the whimsical world of Dr. Seuss by dressing up as iconic characters like the mischievous Cat in the Hat or the playful Thing 1 and Thing 2. These costumes are perfect for families with young children and offer a dose of literary nostalgia.

Disney Characters (e.g., Mickey and Minnie Mouse, Toy Story Characters)

: Disney never goes out of style, making it an excellent choice for family costumes. Parents can don the iconic ears of Mickey and Minnie Mouse, while children can become beloved characters from Toy Story, like Woody and Buzz Lightyear. Disney-themed family costumes are a surefire way to bring smiles to faces of all ages.
DIY and budget-friendly group costumes
Farm Animals (e.g., Cows, Chickens, Pigs)

: Embrace the charm of the countryside by transforming your group into a barnyard of farm animals. Utilize simple materials like cardboard, fabric, and face paint to create animal features. Craft cow spots, chicken feathers, or pig snouts to complete the look. These costumes are not only adorable but also budget-friendly.

Zoo Animals (e.g., Lions, Tigers, Bears)

: Bring the excitement of the zoo to your Halloween party by becoming majestic zoo animals. Use basic clothing items in earthy tones and add handmade tails, ears, and face masks to represent your chosen animal. Roar, prowl, or lumber around as your favorite creatures.
Famous Artworks
Paintings like "Starry Night" or "Mona Lisa"

: Turn your group into living works of art by replicating famous paintings. Create large, wearable frames and incorporate elements of iconic artworks into your costumes. For "Starry Night," paint the night sky on a black outfit and add swirling stars. For the "Mona Lisa," don Renaissance-era clothing and carry a frame around your face.

Statues like the "Venus de Milo" or "David"

 Capture the essence of classical art by transforming into renowned statues. Use neutral-colored clothing and props to mimic the sculptures' poses and features. Whether you're recreating the elegance of Venus de Milo or the strength of David, these costumes are sure to turn heads.
Group Costume Accessories and Props
Your group costume can be taken to the next level with the addition of the appropriate accessories. You may achieve various looks with wigs, masks, and makeup, which will allow you to hone in on the details of your characters. The attention to detail improves the performance as a whole, whether using bright face paint to represent legendary creatures or the application of retro haircuts to represent historical individuals.
Enhancing the look of your theme with coordination props or accessories: Take into consideration the addition of props or accessories that relate to the theme that your organization has chosen. Props like laurel wreaths, staffs, and lightning bolts are great things to have on hand if you're going for the look of Greek gods and goddesses, for instance. These accessories not only improve your costumes but also help to distinguish your group from others in the crowd.
Infuse your costumes with personality and creativity by including components you have made yourself. This will give your outfits a more distinctive look. Add personalized touches such as hand-painted accents, one-of-a-kind textures, or accessories made only for you. Elements that you create yourself not only differentiate your group from others but also highlight your ability to craft.
More Post:Skunk Costume for Cosplay
Considerations for Group Costume Success
Coordination and Communication Among Group Members: Effective planning and communication are crucial for a successful group costume. Ensure everyone is on the same page regarding the theme, costume elements, and deadlines. Coordination guarantees a cohesive look.
Even though inventiveness is of the utmost importance when it comes to costumes, comfort and movement should never be compromised. During your Halloween celebration, you should check to see that the costumes you wear don't restrict your movement and don't make you uncomfortable.
Options Suitable for the Weather: Consider the weather forecast during your Halloween celebrations. Prepare costumes appropriate for the weather, whether you need something warm and insulating for the winter weather or something breathable for the warmer nights.
Ideas for Presentations and Performances Carried Out by Groups (Skits, Dance Routines, etc.): The planning of a presentation or performance is a great way to take your group costume to the next level. This could be a play, a dance routine, or a photo shoot with a specific theme. Your presence will be much more engaging and memorable if your group participates in some active pursuits.
Conclusion
A Review of Some Entertaining and Original Ideas for Group Halloween Costumes: The realm of group Halloween costumes offers almost infinite opportunities for creativity and pleasure, ranging from tried-and-true concepts like superheroes to creative options like famous works of art. There is a wonderful option for a group costume, whether trying to stick to a tight budget or show off your do-it-yourself talents.
Encouragement for Groups to Get into the Halloween Spirit and Have a Fun-Filled Evening Together: This holiday is all about letting your imagination run wild, laughing with your friends, and making memories that will last a lifetime. Embrace the spooky spirit of Halloween and have fun with your friends or coworkers preparing, making, and dressing up for the holiday. You will have a particularly good time together if you get into the spirit of things and wear appropriate costumes.
More Post