Martha, Spencer, Fridge, and Bethany are all given detention, and they are not in the least bit thrilled about it. They conclude that the best way to pass the time while they are compelled to be with one other is to play video games, which they discover when one of them comes upon a retro console. Martha doesn't belong with the other high school students since she's a bit of a geek and wouldn't usually be hanging out with the other kids like Fridge, Bethany, and Spencer. This is one of the reasons why she doesn't feel like she fits in with the group. Everything changes instantly when Martha decides that her character will be named Ruby Roundhouse.
Martha appears to be decked up in a sultry and daring outfit in her new guise as Ruby Roundhouse. She has entirely changed her appearance, and the boys can't help but notice how appealing she is. Even more impressive is that she possesses some hard-core, kick-butt skills that often come to the rescue of the other players in the game. Now that she has a new avatar, Martha needs to consider whether or not she prefers her old self in the high school environment.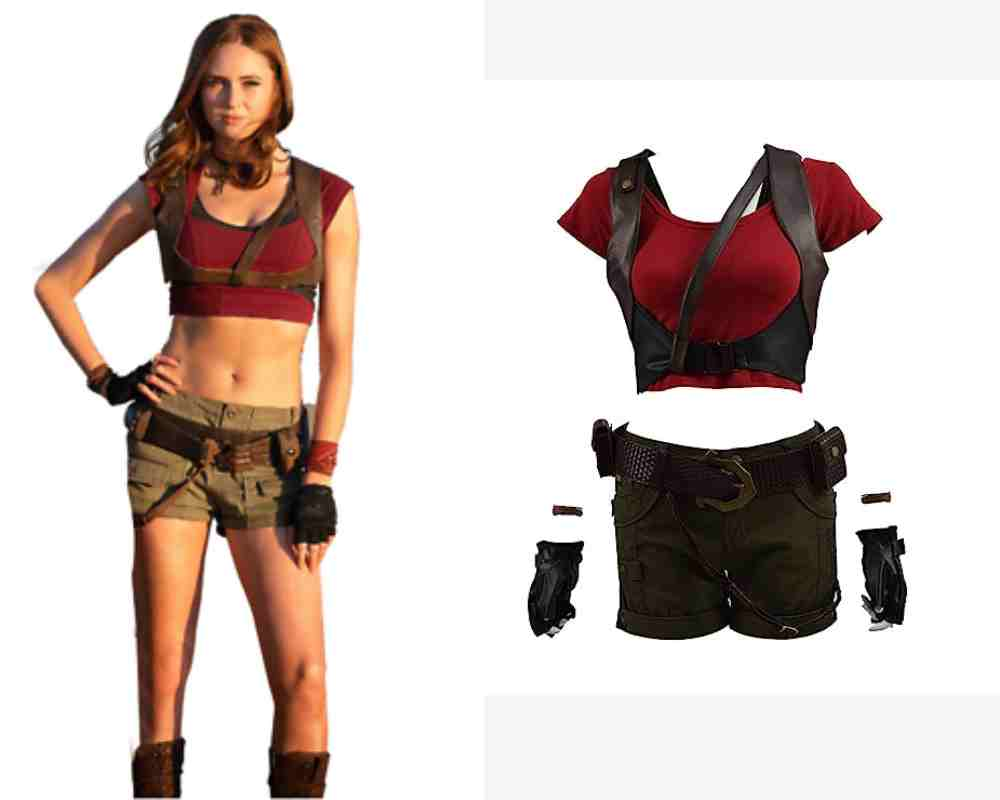 How to Dress Like Ruby Roundhouse
Ruby Roundhouse Red Crop Top
Adding a bright red crop top to your jungle outfit will give it an instant pop of color.
Ruby Roundhouse Brown Vest
Ruby's brown adventure vest is a must-have item you should not forget to wear.
Ruby Roundhouse Olive Green Shorts
If you're going to roam around the Jungle in olive green shorts, ensure you're dressed for the occasion.
Ruby Roundhouse Brown Belt
Make sure you access your waist by wearing a thick brown belt around it.
Ruby Roundhouse Brown Knee-High Boots
Wearing a pair of knee-high boots will make navigating the Jungle easier as you move from one place to another.
Ruby Roundhouse Black Fingerless Gloves
You should wear black fingerless gloves to protect your hands from any harm that could befall them.
More Post : Dante cosplay costume
About Ruby Roundhouse
Karen Gillan was the actress that played the role of Ruby Roundhouse. In addition to her appearances in Doctor Who, Guardians of the Galaxy, Avengers: Endgame and Not Another Happy Ending, Gillan has garnered a lot of attention for her acting. Ruby Roundhouse is one of the characters that may be controlled by the player in the recently updated digital version of Jumanji. Ruby is modeled by the iconic character Lara Croft from the Tomb Raider video game series. If you find her appearance hauntingly similar, Lara Croft inspired Ruby. Because she is skilled in both acrobatics and martial arts, Ruby is the ideal candidate to survive in the Jungle.
Ruby Roundhouse dresses in a manner befitting an adventurer, which exudes an air of allure. She wears a shoulder harness, fingerless gloves, olive green shorts with a thick brown belt, and brown knee-high boots. Her red cropped top is tucked into her olive green shorts.
More Post:  Stevie Nicks Costume
A few new characters have been introduced in the most recent installment of the Jumanji film series, which was released in 2017 and is titled Jumanji: Welcome to the Jungle. These new characters will be fantastic to cosplay! Ruby Roundhouse, portrayed in the film by Karen Gillan, is one of these characters from the movie. She is a sassy girl who doesn't like it when others get in her way. However, do not be fooled by the fact that she is not wearing any clothes; she can out safari any males competing in the Jumanji game without breaking a sweat. Utilizing this Ruby Roundhouse outfit guide, you may replicate the appearance of your Jumanji avatar.
To complete your Ruby Roundhouse cosplay, you will need a Women's Crop Top, a Black Leather Vest, and Cargo Shorts. In addition, it would be best if you got yourself ready to explore the Jungle by donning a pair of knee-high boots and a brown utility belt. Last but not least, finish up Ruby Roundhouse's ensemble by donning some Fingerless Gloves and an Adjustable Choker!
Dress up as Ruby Roundhouse in a cosplay costume
Are you prepared to take on the challenges of the Jumanji world?! You will have some assistance if the Ruby Roundhouse is anything to go by. You won't have nearly as much trouble finding the components for the outfit as you did beating the Jumanji game, and we have a few pointers that will help you get the appearance just right. Ruby's company consists of a red crop top, cargo shorts, jungle boots, and a choker, all of which should be available at various retailers. However, her leather vest, utility belt, and fingerless gloves could be more challenging to find. But if you stick to that, you should be able to make it as Ruby!
The most recent addition to the film adaptation of the original Jumanji takes place entirely inside the context of the avatars that play a role in the game. So it would be a clever move to get some of your pals to dress up as Dr. Smolder Bravestone, Professor Shelly Oberon, and Moose Finbar for Halloween. You can locate the other characters that can be cosplayed farther down the page, but Costume Wall offers hundreds of additional movie characters to choose from! Send us a photo of your outfit; it just could find a place in that gallery of costumes!
More Costume Post You May Like