Ariel is the main character in the Disney film, The Little Mermaid. Unlike many girls in her underwater colony, the under-the-sea princess is independent and headstrong. She dreams of seeing what life is like outside of the water and on land, but her father, King Triton, doesn't understand why she would ever want to leave, and he forbids her from trying.
Ariel is determined to prevent her dreams from washing away! She comes across Ursula, the sea witch, who has a solution to her problems. Ariel will finally be able to see the human world, but there's a huge sacrifice that Ariel must agree to, and that is trading her ability to speak! Is it worth Ariel not being able to talk when she meets the man of her dreams? Will she stay like this forever? Ursula has an evil plan to get everything she wants and for Ariel to lose everything she has ever dreamed of.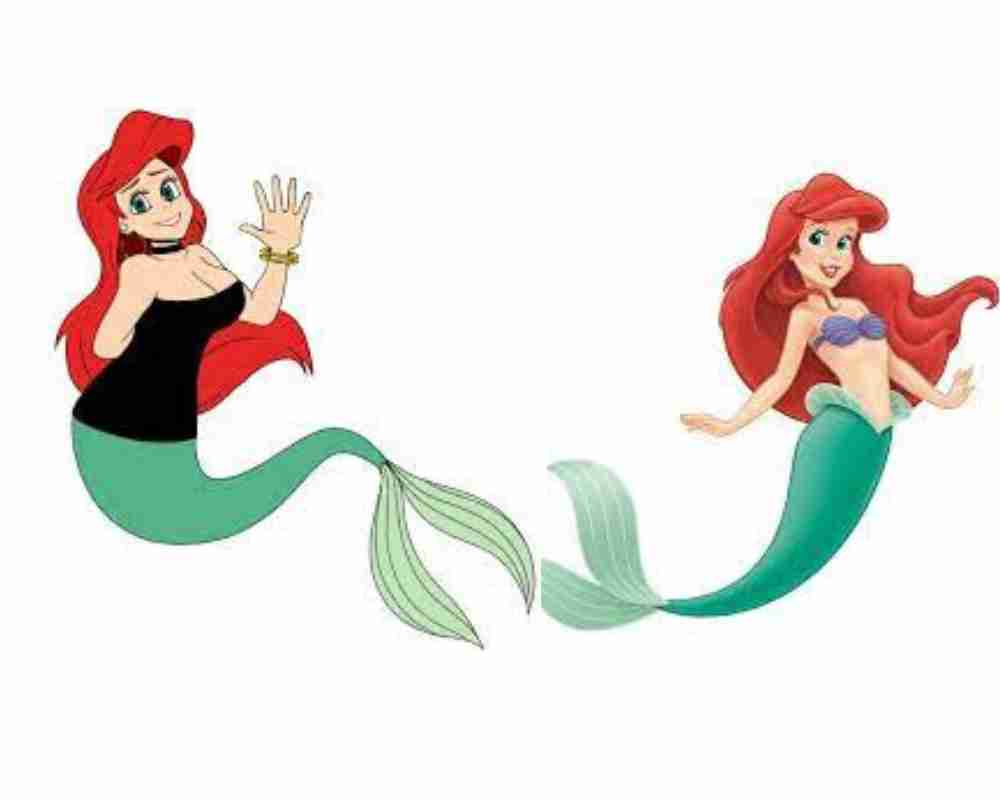 How to Make Ariel's Costume or How to Dress Like Ariel
Ariel Purple Bikini Top
Ariel dons a lovely seashell-patterned shirt in a lilac hue. Try this option, which is a bikini top.
Ariel Green Scaly Mermaid-Cut Skirt
This green skirt with a mermaid cut is about as close as possible to having a real mermaid's tail without actually having one.
Ariel Green Heels
Maintain the consistency of the look by donning a pair of green high heels.
Ariel Red Wig
Remember to accessorize with a blazing-hot red wig.
Ariel Kids Costume Set
This Ariel costume set can help you turn your little girl into a stunning mermaid in no time.
Ariel Wig – Kids
You may use this wig suited for children to give your young girl a new look with her hair.
Ariel Pet Costume
With this costume outfit, even the most cherished of your animals may transform into Ariel, the Little Mermaid.
Ariel Costume Set
Using this costume combination, you may transform into a stunning mermaid.
Ariel Blue Dress Set
Try going in a different direction by donning Ariel's blue date outfit.
More Post : Teen Titan Raven Costume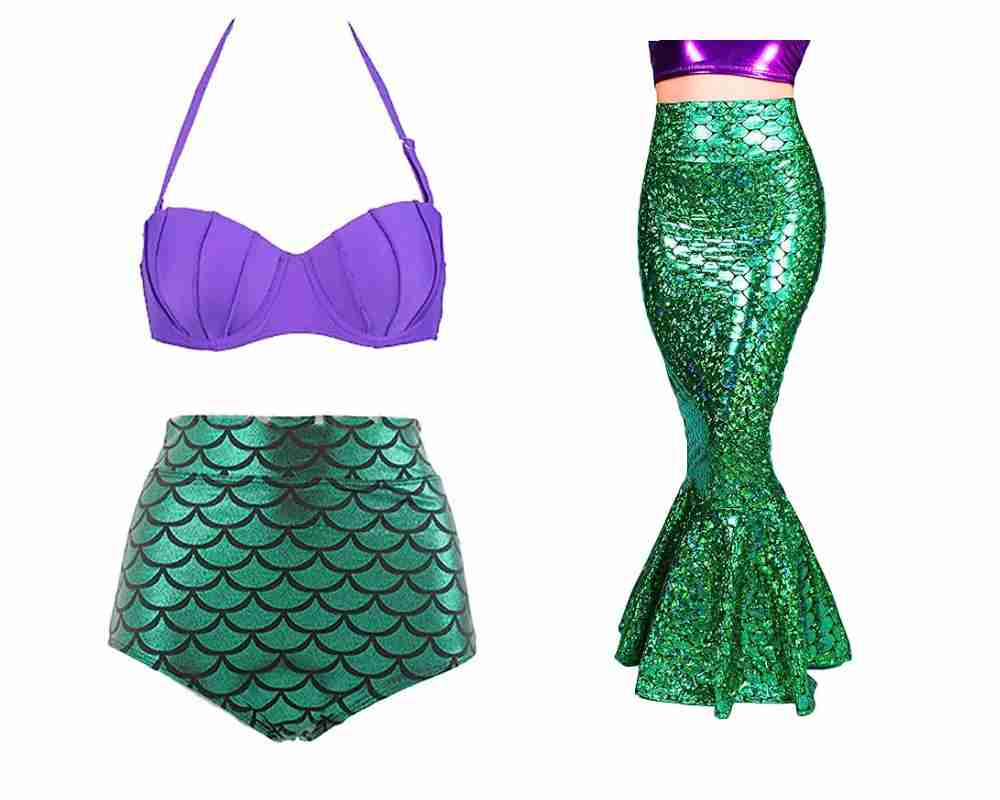 About Ariel
Jodi Benson, an actress, provided the voice of Ariel. In addition, she provided the voice of Barbie in Toy Story 4.
If you want to learn more about Ariel and the other characters from The Little Mermaid, check out the following websites:
Ariel will exhaust all of her options to join the human world. She is a young lady full of boldness, determination, and bravery, all in one package. She has an insatiable appetite for learning new things, and as a result, she can't help but go with her gut most of the time.
The fact that Ariel is still so young and naive, however, meant that it didn't take much for the wicked sea witch Ursula to trick her into being her victim.
The most recognizable features of Ariel are her extended, flowing red hair, brilliantly green mermaid tail, and purple shell bra. Nonetheless, she also possesses other pieces of clothing.
On their stroll around the village with Prince Eric, she flaunts the stunning blue outfit she had worn. Here is all you need to have the same appearance as Ariel.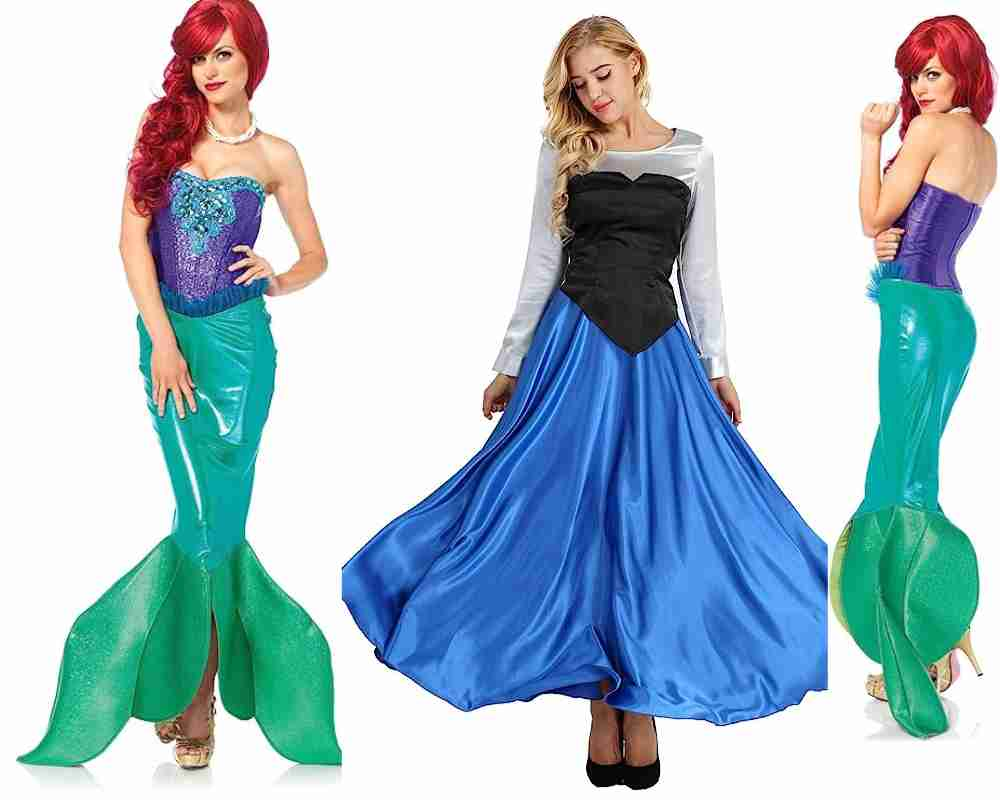 Best Ariel Halloween Costume Guide
Ariel, the Disney princess from The Little Mermaid, began the mermaid craze! She resides beneath the water with her closest friend Flounder, Sebastian, and other marine creatures that we might only imagine! Ariel wants to walk on land to be with Prince Eric, the love of her life. She would do everything, including have Ursula, the sea witch, put a spell on her to be on land with him. Achieve the appearance of Ariel, the mermaid with red hair, with this costume guide.
Ariel has beautiful red hair. Therefore you'll need a Long Red Wig to cosplay the most famous mermaid. Add a Mermaid's Green Tail and a Seashell Bra (painted with Light Purple Paint). Ariel always travels with her buddies, so bring a Flounder Plush and a Sebastian Plush!
More Post: Mermaid Man Spongebob Squarepants Costume
Ariel Cosplay Costumes
As Ariel is the most famous mermaid, even though she does not speak for most of the film, cosplaying The Little Mermaid is quite simple! After purchasing a Red Hair Wig from a costume store, you may get the appropriate Mermaid Tail and Seashell Bra online. Quickly paint the Seashell Bra with purple paint to match Ariel's appearance. You can get Flounder and Sebastian plush toys in most Disney-themed toy stores or purchase them online faster than you can say "gadgets and gizmos."
Ariel aims to be on land with Prince Eric; therefore, dress up your closest male buddy as Eric and another friend as Ursula, the sea witch. Now that you have a group costume appropriate for both land and sea, please send us a photo to be included in The Little Mermaid costume gallery!
More Costume Post You May Like