Lizzie has an imaginary friend named Drop Dead Fred, who was trapped in an old jack-in-the-box by her mother when she was a child. He might have been able to cause more problems for the already grown-up Lizzie, but he was able to help her discover her inner child again through his childlike personality and penchant for mischief.
A pop culture icon, Drop Dead Fred is known for the bright green ensemble he wears. His signature messy ginger hair and yellow shirt are worn beneath a green blazer, green striped dress pants, and red Oxford shoes, and he wears green suspenders underneath a yellow shirt and white suspenders.Lets make Drop Dead Fred Costume for Halloween.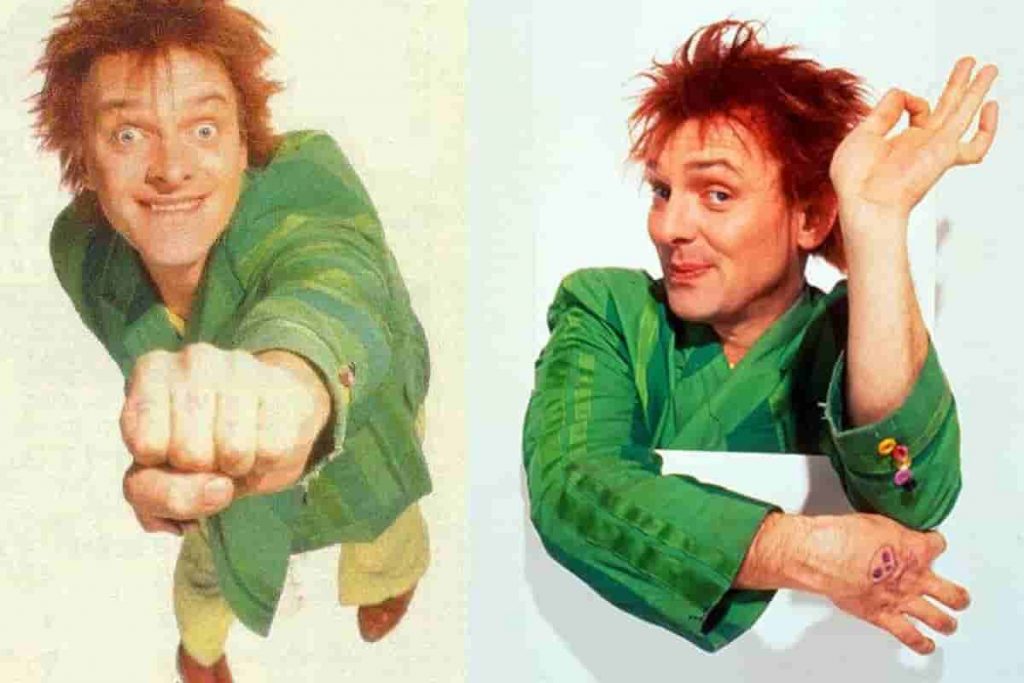 How to Make Drop Dead Fred Costume
Yellow T-Shirt
You can start your bright outfit by wearing a plain yellow t-shirt to complement your bright pants.
White Suspenders
A pair of white suspenders will help you keep your pants up.
Green Blazer
Make you are top stand out by wearing a bright green blazer over it.
Green and Yellow Striped Dress Pants
If you're wearing a blazer, match it with a pair of striped dress pants for a quirky look.
A pair of red pointed-toe Oxford shoes with a red leather sole
Red Oxford shoes are a great way to add a pop of vivid color to your outfit.
Orange Wig
To look more like Fred, you should wear a messy ginger wig to complete the look.
More Post : Eddie Van Halen Costume for Halloween
About Drop Dead Fred
He was portrayed by Rik Mayall in the movie Drop Dead Fred. In addition to The Young Ones, Mayall also appeared in Bottom Live 3: Hooligan's Island and Bottom Live: The Big Number 2 Tour.
Initially released in 1991 by New Line Cinema, Drop Dead Fred is a black comedy fantasy film directed by Ate de Jong, produced by PolyGram and Working Title Films, and released and distributed by New Line Films. In the movie, Phoebe Cates plays the young Elizabeth Cronin, and Rik Mayall plays her imaginary friend Drop, Dead Fred, Carrie Fisher, Ron Eldard, Tim Matheson, and Bridget Fonda, who all play supporting roles. After Elizabeth becomes an adult, she is haunted by Fred.
To resolve their conflict, Elizabeth Cronin, a repressed and unassertive court reporter from Minneapolis, visits her husband Charles, with whom she has been separated, on her lunch break, hoping they will be able to work things out. But unfortunately, Annabella is the woman he has fallen in love with, and he reiterates his desire for a divorce.
While stealing her purse, a man breaks into her car while she is on a public phone, and another man steals the car itself while she is on a public telephone. Finally, she arrives late and is terminated due to running back to work at the courthouse. After she leaves the courthouse, Elizabeth runs into her childhood friend Mickey Bunce, who brings back memories of their childhood friendship, including those of Elizabeth's imaginary friend, Drop Dead Fred, whom she has never met. There is a moment when Mickey reminds her that everyone thought she was crazy when she was a little girl. Then, during a series of flashbacks, she is shown that even though he caused havoc, he also provided happiness and a release from the oppressive and emotionally abusive mother she had grown up with, Polly.
More Post: Charlie Chaplin Costume for Halloween
A dark comedy movie named Drop Dead Fred features him as the title character and main antagonist. The protagonist of the story is Elizabeth Cronin, whose imaginary friend is a wild and uncontrollable creature who re-enters her life as an adult to help her deal with various issues that are damaging her life and self-esteem, acting in a destructive way to do so.
In the film, he is portrayed by the late Rik Mayall, who has also played Richard Richard in Bottom, Robber Hag in The Snow Queen, Cufflink in Valiant, Prince Froglip in The Princess and the Goblin, Alan B'Stard in The New Statesman, Robber Hag in The Snow Queen, and Rick in The Young Ones.
More Costume Post You May Like