Lorraine Broughton's moniker and character in the 2017 spy thriller Atomic Blonde is Atomic Blonde. She appears in the film as an experienced MI6 agent assigned to acquire a crucial document. The document is The List because it contains a complete list of all Soviet Union field agents operating secretly. Yuri Bakhtin is responsible for taking The List, but Lorraine must now reclaim it and eliminate anybody who is in her way.
Throughout the quest, Lorraine encounters men and people seeking to murder her and many more whom she is chasing down to kill. Those who come into contact with her in the film have no idea what they're in for regarding this Atomic Blonde. They'll find out quickly if they try to cross her. Don't be fooled by her feminine appearance; she can knock down anyone with a single shot!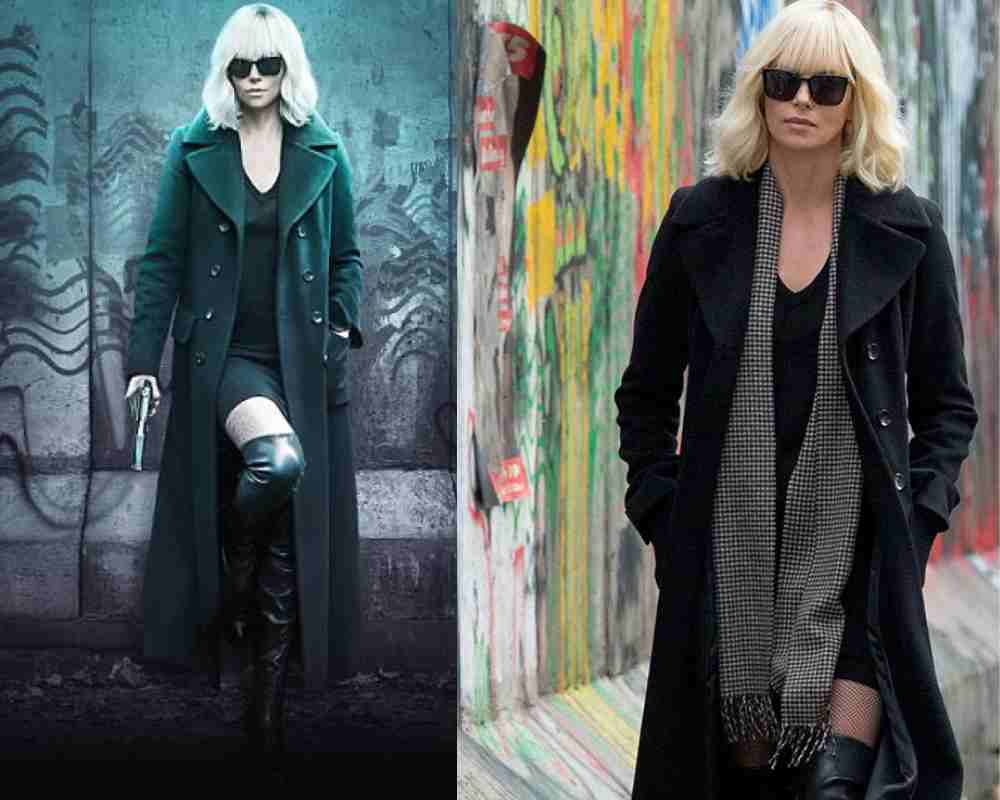 How to Make Lorraine Broughton from Atomic Blonde Costume or How to Dress Like Atomic Blonde
Lorraine Broughton Black Tank Dress
Choose a short black dress that is simple in style to wear.
Lorraine Broughton Black Trench Coat
Dress up a skirt by layering it with a long black or trench coat.
Lorraine Broughton Stockings
Put on a pair of stockings that are entirely sheer and black.
Lorraine Broughton Thigh High Boots
Complement your look with a couple of thigh-high leather boots in black.
Lorraine Broughton Retro Square Sunglasses
Get a set of vintage-style sunglasses in the color black to put on.
Lorraine Broughton Short Platinum Blond Wig
If you want to imitate Lorraine's hairdo, you should wear a short, blonde wig with bangs as she has.
Lorraine Broughton Cigarette Prop
As our persona is almost always seen smoking, you should buy a cigarette prop to bring along with you.
Lorraine Broughton Long Gray Scarf
Tie a scarf in a muted gray color around your neck.
Lorraine Broughton POP Figure
If you like the movie and Lorraine, take advantage of the opportunity to add her figurine to your collection.
More Post : Marty Mcfly Back to the Future Costume
About Lorraine Broughton
Lorraine Broughton wears nothing but black and white because the film is set in Berlin during the Cold War era of the 1980s. We are emphasizing the tension between the political situation of the time and the protagonist's identity.
Lorraine Broughton, a blonde, wears a black trench coat over a plain black dress, black stockings, black thigh-high boots, black sunglasses, and a gray scarf for the style chosen for this post. Check out our item list below if you want to recreate this beautiful, menacing look!
Lorraine Broughton, played by Charlize Theron, is the primary protagonist of Atomic Blonde, a 2017 action film set in Berlin in the late 1980s during the Cold War.
The plot centers around Lorraine Broughton, a top-level MI6 field agent dispatched to Berlin to investigate the death of a fellow agent.
Lorraine must also locate and collect a missing list of double agents. Lorraine is surprised to discover that she must deal with more than she bargained for when she struggles between her relationship and her professional life.
Best Atomic Blonde Costumes for Halloween
Lorraine Broughton is a top-secret MI6 agent portrayed by Charlize Theron in Atomic Blonde. This is not a romantic comedy but an action spy thriller featuring Charlize Theron in some intense action scenes! Lorraine is on a mission to get The List, a microfilm stored within a wristwatch containing the identities of every Soviet field agent. You would want to take advantage of this woman with attitude and initiative. This Atomic Blonde costume guide will help you get this MI6 agent's appearance.
Cosplay Lorraine's Atomic Blonde style with a Straight Blonde Wig, Black Dress, White Trench Coat, Women's Black Boots, Leather Gloves, and Sunglasses to get Lorraine Broughton's stylish and menacing aura! She may appear fashionable, but she is willing to go to any extent to reclaim The List.
More Post: Max Mayfield Stranger Things Costume
Atomic Blonde Clothes for Cosplay
Most special agents look similar, but the Atomic Blonde, Lorraine Broughton, is not typical. You may cosplay her vivacity and flair with just a few pieces! Get the enticing appearance of this MI6 agent from the highly acclaimed film Atomic Blonde. Together with the boots and leather gloves, you may find her platinum blonde wig in a costume store. The black dress and a white trench coat are readily available online. If not, have no fear! This costume guide contains a list of all essential components. Remember to accessorize with your favorite pair of dark shades.
This style works best as a solo cosplay but can still be adapted for a group! Get your pals and dress up as David Percival, The Watchmaker, Spyglass, or any other character from the film Atomic Blonde! After following this instruction, please send us a photo of your completed Atomic Blonde costume!
More Costume Post You May Like