Holly Golightly is a fictional character from Breakfast at Tiffany's. Known as one of Audrey Hepburn's most iconic roles, the film has found popularity among many generations. Holly Golightly is a young, naive girl in New York. She is seen as nothing more than a party girl who wants nothing but money and the next best thing. A writer named Paul moves in upstairs in the apartment complex and begins to learn more about Holly. As they spend more time together, they start to fall in love.
Holly Golightly is a young dreamer who wishes to find more in life. After having a sad childhood and losing her brother later, Holly has to find her way in the world. At first, she isn't quite sure what she wants from life, but as she spends more time with Paul, she realizes where her heart belongs.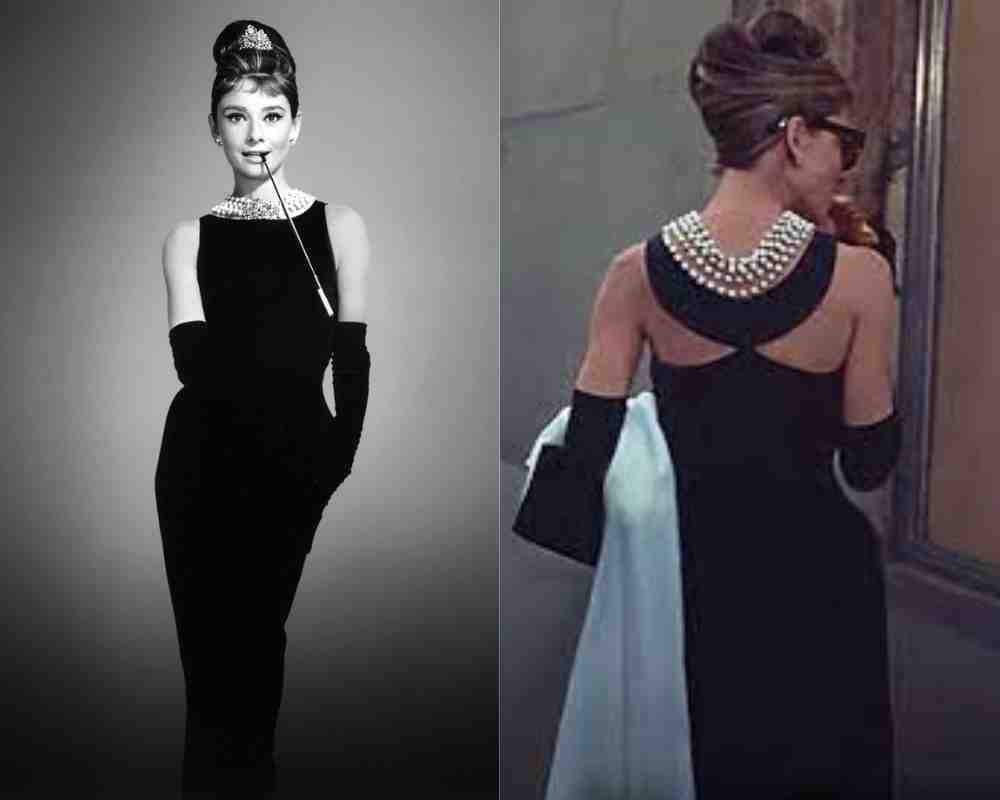 How to Make Audrey Hepburn's Holly Golightly (Breakfast at Tiffany's) Costume
Audrey Hepburn's Holly Long Black Dress
Invest in a simple black dress that is long and has a boat neck.
Audrey Hepburn's Holly Long Black Gloves
Long black gloves are an elegant touch that may be added to the ensemble.
Audrey Hepburn's Holly Pearl Necklace
Enhance the appeal of your ensemble by donning a long string of pearls.
Audrey Hepburn's Holly Pearl Hair Clip
Pair your pearl necklace with a pearl hair clip to complete the look.
Audrey Hepburn's Holly High Heels
Put the finishing touch on your ensemble by donning a pair of black high heels.
Audrey Hepburn's Holly Pearl Studs
Put on a pair of stud earrings made of pearls.
Audrey Hepburn's Holly Long Cigarette Holder
As a prop, you may make use of a cigarette holder.
Audrey Hepburn's Holly Brown Sunglasses
Put the finishing touches on the ensemble with a pair of brown sunglasses.
Audrey Hepburn's Holly Full Costume
You don't have the time to gather all these things, do you? Instead, go and get this one.
More Post : Max Mayfield Stranger Things Costume
About Holly Golightly / Audrey Hepburn
It is the best way to characterize the iconic actress Audrey Hepburn: she was born in the United Kingdom but grew up in Europe, and she achieved fame worldwide when she was at her peak.

Born Audrey Kathleen Ruston, she spent considerable time in Europe before arriving in London in 1948. Audrey was honored for her work in various fields in addition to her acting career, including as a model, dancer, and humanitarian.
On top of that, she was one of the most impacting fashion icons of Hollywood's Golden Age. Not only did films and fashion Audrey had left behind, but she also contributed a lot to humans as she performed charitable work to aid people throughout her life.
Audrey Hepburn played Holly Golightly. In addition, Hepburn is well-known for her parts in the films My Fair Lady, Charade, and Roman Holiday.
You may get more information about Holly Golightly and the other characters in Breakfast at Tiffany's by visiting the following websites:
What could be more "Audrey Hepburn" than the iconic little black dress she wore in Breakfast at Tiffany's? She wears a long black dress, long black gloves, high heels, sunglasses, a pearl necklace and ear studs, and a pearl hair clip. Moreover, she has a cigarette holder in her hand. If you enjoy this style, get the stuff down above to make it happens.
Best Audrey Hepburn Halloween Costume Guide
Holly Golightly from Breakfast at Tiffany's is one of Audrey Hepburn's most famous roles. The romantic comedy from 1961 is one of the most memorable and well-known movies. In the movie, Audrey Hepburn plays a character named Holly who gets to know a writer who moves in upstairs. His name is Paul Varjak. Holly and Paul fall in love because of bad luck and chance.
Holly is a young girl who lives in a big city. She is outgoing and happy-go-lucky. She is sometimes a little too innocent, but she is trying to grow up. She has been through a lot since she was young, but she tries to stay positive and hopes for a better future. No one can forget the iconic look Audrey Hepburn wore in the movie, so get the face with a long black dress, long black gloves, a pearl necklace, a pearl tiara, pearl earrings, black heels, sunglasses, and a cigarette holder.
More Post: Marty Mcfly Back to the Future Costume
Cosplay costumes of Audrey Hepburn
Audrey Hepburn's look in Breakfast at Tiffany's is easy to tell apart from other cosplays. Her outgoing personality and tendency to daydream all the time make her over-the-top clothes and party lifestyle a good fit. This outfit's classic shape and style from the 1960s will make you look amazing. The long cigarette holder she likes to wear on special occasions will pull this look together. Putting on classic 60s eyeliner and teasing your hair will help you stand out immediately.
Don't think you have to go to Tiffany's for breakfast alone. You could meet your own Paul or bring your ginger-haired cat with you. Use your imagination with this cosplay and whatever you pair it with. Remember to send us some pictures of your Halloween costume if you think it's the best.
More Costume Post You May Like