Amethyst, a cheerful character full of laughing and pleasure on the Cartoon Network Steven Universe show, is frequently utilized as comic relief. Pearl often judges her for her laziness and harsh tongue. Despite her nasty demeanour, she is a highly protective and devoted character. Amethyst is the Gem that will entertain Steven Universe the most. She is typically open to engaging in human activities with him.
While Amethyst is lighthearted most of the time, she also has a lot of self-loathing because of her roots in Kindergarten and the tragic past it carries. Amethyst feels out of place compared to the other Gems, especially when contrasted to Pearl or Garnet. Amethyst has poor self-esteem; when depressed, she can be chilly and irritable with others.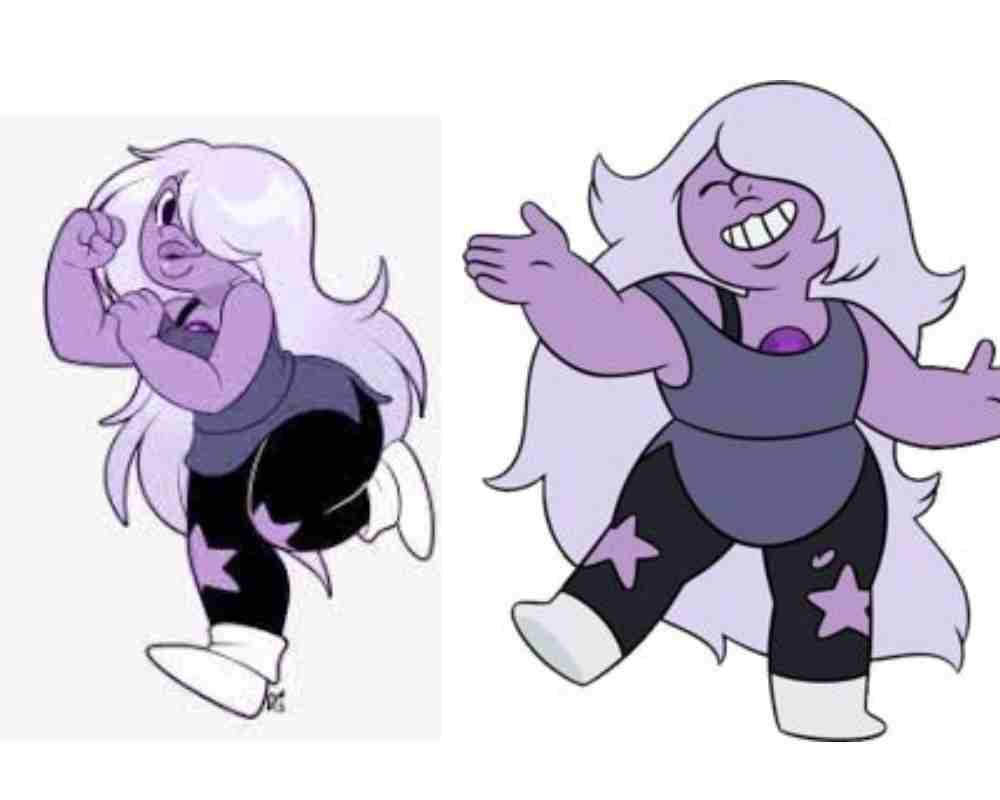 How to make Amethyst Costume or How to Dress Like Amethyst
Amethyst Light Grey Tank Top
Amethyst's laid-back demeanor focuses on comfort, so she favors donning a tank top in a light grey color.
Amethyst Black Sports Bra
This black sports bra is an excellent analog for the layered look that Amethyst often sports, which she usually wears.
Amethyst Black Leggings
Amethyst is the epitome of contemporary comfort, as seen by the pair of black leggings she always wears.
Amethyst Purple Star Stickers
Amethyst gives her outfits a unique and personal touch by adhering two purple star stickers to the top of each garment.
Amethyst Plain White Boots
Amethyst wears a pair of essential white boots, which go well with the purple hue of her hair.
Amethyst Lilac Body Paint
Make your skin look like Amethysts with this purple body paint.
Amethyst Acrylic Amethyst Gem
Amethyst wears a piece of Amethyst on her chest in the form of a stone. This acrylic analog might be the finishing touch to your look if you want to wear it.
Amethyst Long White Wig
Putting on a long white wig is the finishing touch to your Amethyst costume.
More Post : Jabba the Hutt Star Wars Costume
About Amethyst
Michaela Dietz, who earlier portrayed the baby dinosaur Riff in Barney & Friends, plays Amethyst.
Of the Crystal Gems, Amethyst is the most eager to indulge Steven's whims. She enjoys having fun and is prepared to attempt anything for enjoyment. Amethyst is usually easygoing and cheery, yet she also has self-doubts and flaws. On the other hand, her friends don't let it bother her.
Like the popular hue of her name, Amethyst is a lilac-colored person with white hair. She is dressed in a grey tank top, black leggings with purple stars on the knees, and white sneakers. Everything you need to appear like Amethyst is right here.
More Post: King Julien Madagascar Costume
Amethyst Halloween Costume Ideas
Amethyst is a member of the Crystal Gems and one of the final known Gems to be created on Earth as part of the Gem Homeworld's Kindergarten project. If you want a unique Halloween costume, go no further than the character from Cartoon Network's Steven Universe! Amethyst is shorter than many other Quartz Gem warriors (around the same height as Steven Universe) and has a stocky body due to her extra 500 years beneath the Earth. Her purple color really sets her apart, which compliments her crystal. With this Amethyst costume guide, you can have the appearance of one of the few living Gems on the planet.
To complete Amethyst's appearance, you'll need a cut glass diamond gem, purple star patch, long hair wig, black fitness crop top, grey tunic tank top, black leggings, and knee-high white boots.
Cosplay Amethyst Costumes
While locating the components required for your Amethyst costume may appear simple, putting it together might not be easy. It would be best to have a style that is easy and tough for cosplay. You must be able to pull off the purple look and Amethyst. While looking for a comparable wig, try to select a light purple hue, exactly like Amethyst's hair. Identical apparel should be easy to find in your wardrobe or a friend's closet. You can always make your own star patch if you're crafty enough.
To construct a group cosplay with Amethyst and the other Crystal Gems from the show Steven Universe, we recommend enlisting the help of a few friends who are willing to dress as Steven Universe, Pearl, Jasper, and Ruby to make the appearance even more authentic. We'd love to see your creativity while designing this Gem's dress! Please email us images of your completed outfit so we may display it in the cosplay gallery and inspire others to dress up like Amethyst.
More Costume Post You May Like