Master Roshi has a somewhat shady reputation, which is fitting given that his name translates to "Invincible Old Master." He believes that he is alluring to women because of his love of women in any form, whether they appear on television, in magazines, or person. However, even though he firmly attaches to people of the opposite gender, Master Roshi is a good-natured individual. Because he is over 300 years old, he has had a lot of time to develop such an exciting personality. Pizza is his primary source of sustenance; in his leisure time, he enjoys lounging around the house, watching television, playing video games, reading, and taking naps.
It would be a grave error on your part to interpret his easygoing demeanor as a sign of weakness. On the contrary, he is a powerful master who is fully committed to instructing his students in the Turtle School's pedagogical practices. Furthermore, he showers his friends and family with all the love and consideration they require, much like a grandfather would do for his grandchildren. Even while he keeps a calm exterior and seems to take pleasure in life's simpler things, he is, in fact, a warrior at heart, willing to battle for a cause in which he strongly believes. Fans need not be concerned, however, for even though he has died several times, he always appears to be resurrected again!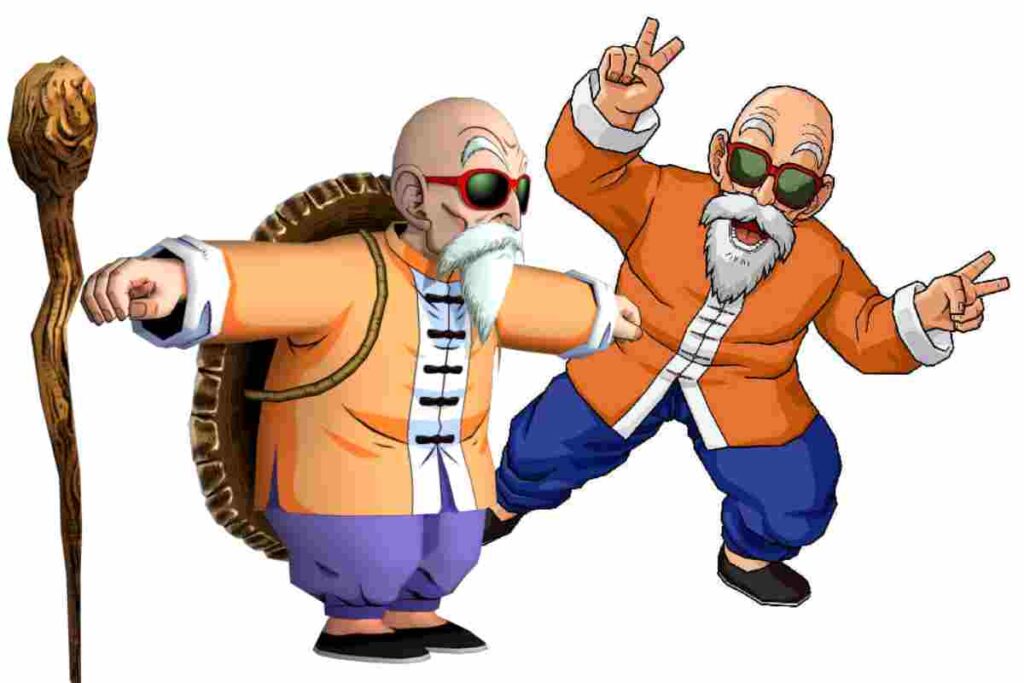 How to Make Master Roshi's Costume from Dragon Ball
Master Roshi 
Orange Traditional Top
If you want to match the actual look, get this traditional top to complete your outfit.
Master Roshi 
Orange Button-down Shirt
Alternatively, you can wear this orange shirt with a button-down collar.
Master Roshi 
Dark Pants
Wear this pair of pants with the top to complete the look.
Master Roshi 
Canvas Shoes
As well as wearing canvas shoes, Master Roshi also wears a pair of canvas shoes!
Master Roshi 
Bald Cap
Put a finishing touch on your look by wearing this skinhead cap.
Master Roshi 
Facial Hair and Shades
There is also the option to wear this mustache with a beard and sunglasses set!
Master Roshi 
Turtle Back
It is time to add the famous turtle-back element to the costume to complete the look.
More Post : Gravity Fall's Dipper Pines Costume
About Master Roshi
One of the most well-known and popular characters in the Dragon Ball manga and anime franchises is Master Roshi. He serves as a martial arts teacher to several famous characters from the series, including Grandpa Gohan, Goku, Krillin, Yamcha, and others. In addition, he is recognized as the creator of the Kamehameha technique. He has a peculiar personality, yet the other characters see him as intelligent even though he has committed several questionable deeds.
Master Roshi is a much-loved character within the Dragon Ball franchise canon. He is most easily identified as the older man dressed in a vivid orange outfit, just like the show's protagonists and antagonists. In addition, he has on a pair of classic shoes and some comfortable slacks. Make sure to use a skinhead hat, a fake mustache, and a beard if you want to pull off his fabulous outfit. Finally, add a pair of shades to finish it off.
A guide to the best Master Roshi Halloween costumes
Cosplaying as Master Roshi from Dragon Ball is not only a character that will never go out of style but also a lot of fun. If you follow our instructions, you won't have to worry about looking out of place for long! As a starting point, we suggest that you pick up a set of retro-style classic sunglasses and a white beard. Then, his wardrobe needs can be satisfied by wearing a Men's Hawaiian White Floral Shirt on top of a pair of Men's Classic Fit Beach Shorts.
Now we will discuss the accessories. We recommend getting a Yellow Necklace from Dragonball Z, a Staff from Gandalf, and a Plush Turtle Shell Bag. Any features that need to be added to his shirt or shorts can be done with Textile Color Fabric Paint. Finally, if you want to imitate his carefree sense of style, you can finish off your outfit with a comfortable pair of Quicksilver Men's Haleiwa Flip-Flops.
More Post: Lana Kane Archer Costume
A stage-quality bald cap can mimic Master Roshi's signature glossy pate, making him the ideal character for bald people on top to cosplay. If you're going to a costume shop to pick up a fake beard while there, you might as well search for matching eyebrows to stick on. Depending on your creativity, you can buy or make his necklace. Both options are available. You can get away with wearing any pair of white shorts, but a simple orange shirt is a better choice. You can use fabric paint to create the quirky letter design that Master Roshi likes to wear on his clothes with the orange shirt.
A nice walking stick can be made from either an item purchased or discovered, such as a branch from a tree. Regarding the shell back he wears, this item can be bought at a costume shop or produced by cosplayers who exhibit a higher level of creativity. If you are going to a series of conventions as a group, Master Roshi would be in good company with his former students Yamcha, Goku, Gohan, and Krillin, all of whom are skilled martial artists. Make sure you look at the featured photographs on our site for even more fashion inspiration. Your pictures are also very much appreciated by us.
More Costume Post You May Like