Darth Vader, the most feared demon in the galaxy and one of the most memorable villains in film history, is Anakin Skywalker, a Jedi knight gone rogue. A darker, more menacing variation of traditional Jedi garb suggests Anakin's grim future.
Because every other knight is dressed in brighter hues, such as beige, white, and light brown, his black and dark brown tunic stands out as the obvious polar opposite of the Jedi.
Anakin's costume combines all of the aspects of traditional Jedi garb, just darker. Brown inner shirt over a darker brown tunic and a black tabard kept together by a waist sash the same colour as his tunic and a dark brown leather belt. He also dresses in brown slacks and dark brown pull-on boots.
Aside from the colour of his clothes, something else sticks out: the coffee-bean brown gauntlet he wears to conceal his cybernetic hand.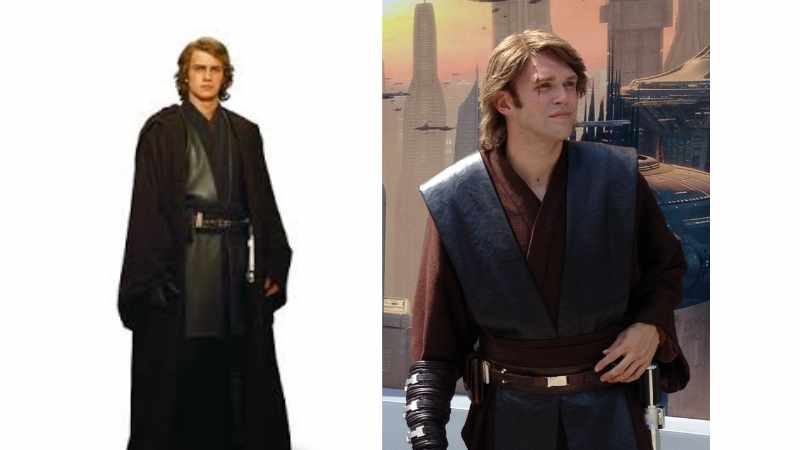 How to make Anakin Skywalker's Costume
Anakin Skywalker Full Costume 1
You may get this full-body, polyester jumpsuit with all of the details pressed on. Iron-on stickers are used for the inner shirt, tunic, sash, tabard, and belt. It also comes with boot covers to make your shoes look like real boots. It should be noted that it does not include the brown hooded cloak or the glove.
Anakin Skywalker Full Costume 2
This ensemble consists of a tunic, tabard, waist sash, belt, slacks, and a hooded long robe with long bell sleeves. The glove and boots are available individually.
Anakin Skywalker Full Costume 3
If you want to invest in a finer, higher-quality outfit, this set is for you. It consists of an inner shirt, a tunic, a tabard, a waist sash, a utility belt, pants, and a hooded long robe with long bell sleeves.
Anakin Skywalker Leather Gauntlet
Gauntlets in Leather The right glove is coffee brown and constructed of genuine leather.
Anakin Skywalker Leather Boots
Pairs of Leather Boots High brown leather boots with a side zipper.
Anakin Skywalker's Lightsaber
To keep the Dark Side at bay, every Jedi requires a lightsaber. This blue lightsaber is a fantastic addition to your outfit because it is identical to the one Anakin used to carry. Hey! Don't underestimate your strength! But keep clear of the high ground. We've put together a few different costume options for you to choose from, as well as a handful of accessories that are often offered separately.
About Anakin Skywalker
Anakin Skywalker was saved from Tatooine as a youngster by Obi-Wan Kenobi and Qui-Gon Jinn, who helped him become a loyal Jedi Knight. Anakin, played by Hayden Christensen, was entrusted to defend Senator Padme Amidala, whom he would later marry, with his mentor Obi-Wan.
As his journey continues and the Dark Side tempts him to discover his true destiny, dreams torment Anakin. Despite the protestations of Obi-Wan and Padme, Anakin succumbs to the Dark Side and is given the name Darth Vader. After a titanic battle with his former mentor, Obi-Wan Kenobi, Senator Palpatine intervenes to save Anakin from death on Mustafar. Owing to his serious injuries, he is given the iconic Darth Vader black suit.
Anakin Skywalker is one of the most divisive characters in the Star Wars universe due to his beginnings as a Jedi apprentice and his growth into Darth Vader, probably the most known of all Star Wars villains. He is also known as Luke Skywalker's and Princess Leia's father.
More Post: Agent Peggy Carter Costume
Anakin Skywalker Costume Ideas
Having trouble deciding between the Good and Dark Sides of the Force? Here's your chance to combine the two by dressing up like Anakin Skywalker from Revenge of the Sith. Anakin would eventually abandon the Jedi Order to become Darth Vader, possibly the greatest Star Wars villain of all time, but not before fathering Star Wars' most famous twins, Luke Skywalker and Princess Leia Organa. If you enjoy Star Wars cosplay, this outfit is a must-have in your wardrobe. There is no doubting that without Anakin, there would be no Darth Vader, Luke Skywalker, or Princess Leia. He is loved by some and reviled by others.
With this Anakin Skywalker costume guide, you may relive his early years as a young Jedi, complete with Belt Buckle Holsters, the Anakin Skywalker Gauntlet, Boots, and the iconic Jedi Braid. Without his iconic Lightsaber, no Anakin Skywalker costume would be complete.
More Post: Rick Astley Costumes
Cosplay Costumes for Anakin Skywalker
You may now cosplay young Anakin Skywalker during his Jedi years, one of the most essential characters in the Star Wars mythology. Let's face it: Star Wars has produced a plethora of characters that are ideal for cosplay. Will you dare to be different and take on the character around whom so much of the Star Wars saga is built while everyone else dresses up in Stormtrooper outfits and Darth Vader helmets?
Why not take a look at the Darth Vader costume guide and try something new? The Jedi clothing and Darth Vader helmet would make a distinctive statement about Anakin's dual status in the Star Wars universe! One thing is certain: with this Anakin Skywalker cosplay guide, you will always be able to locate lots of other eager Star Wars fans and cosplayers to join in on the fun.