You can die from love. In this instance, it did, and Tiffany Valentine became considerably crazier as a result. When Chucky was a human, Charles Lee Ray was Tiff's boyfriend, and she sadly missed him. She eventually runs across him again after hatching clever schemes and killing a few people.
Tiffany's soul is transferred by Chucky into a bride doll so that she can experience what it's like to be trapped in doll form. She then gives herself a makeover, going from brunette to blonde and adding an edgy black leather jacket to make her wedding dress look fashionable. Everything you require to resemble the Bride of Chucky is provided here. Tiffany fully embraces her new identity as the Bride of Chucky, relishing in the dark and twisted adventures that lie ahead. With her newfound appearance and attitude, she is ready to embark on a journey filled with chaos, love, and a thirst for revenge against those who have wronged her.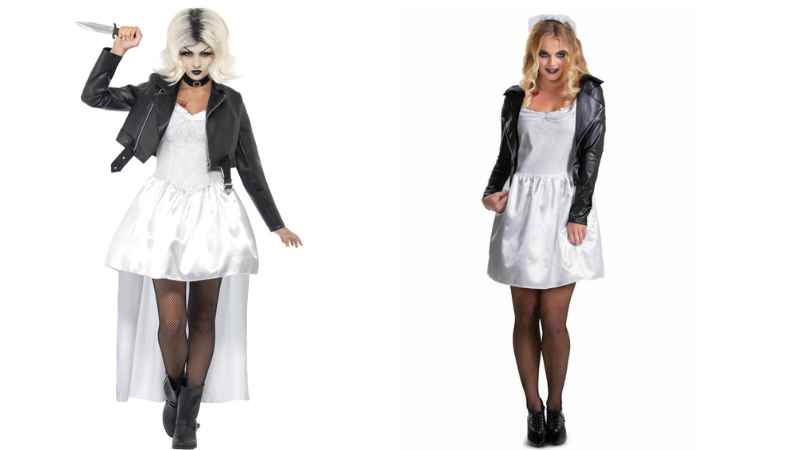 How to Dress Like Tiffany Valentine/Bride of Chucky
Tiffany Valentine White High-Low Dress 
Tiffany was not a fan of the bride's original frumpy dress, so she transformed hers into a high-low style to make it look more contemporary and seductive.
Tiffany Valentine  Black Leather jackets
The overall style is given a more rebellious air by Tiffany's choice to wear a black leather jacket.
Tiffany Valentine Black Fishnet Stockings 
Fishnet stockings are Tiffany's favorite, and she wears them even though they give her an unattractive but trashy-sexy appearance.
Tiffany Valentine Black-Heeled Boots
The high heels that Tiffany wears with her black boots contribute to the edgy look of her ensemble.
Tiffany Valentine Tattoo
Tiffany has a Chucky tattoo over her heart, which serves as a representation of her commitment. Put on a thick choker necklace so that it hangs around your neck for an extra touch.
Tiffany Valentine Fake Hand knives
If the Bride of Chucky is also a killer, then a bouquet of knives seems like the most appropriate choice.
Tiffany Valentine Blonde Wig 
Tiffany decided that the brown hair of the bride doll should be lightened to match her natural hair color, so she used blonde hair dye on the doll.
Tiffany Valentine Costume Set
If you don't feel like putting in the effort to sew your clothes, you can always purchase a complete costume set like this one.
More Post : Esmeralda Costumes
About the Tiffany Valetina/BBride of Chucky
Jennifer Tilly gave a fantastic performance as the title character in "The Bride of Chucky." In the Child's Play television series, Tilly also portrays a character who goes by her name. The Bride of Chucky is a fictitious character that was first presented in the Child's Play film series in the 1998 film Bride of Chucky and then re-presented in the 2004 film Seed of Chucky. She has since appeared in both films. At first, she appears to us in the form of a human character known as Tiffany Valentine. She is the ex-girlfriend of serial killer Charles Lee Ray, who ultimately gave his name and likeness to the Chucky doll that we all know and love. Tiffany wants to resuscitate Chucky so that she can marry him, but when he comes back to life, he has no interest in being married to Tiffany as she is. After a battle breaks out between the two, Chucky, in a fit of wrath, uses voodoo magic to transfer Tiffany's soul into a doll, which she had been using to tease Chucky earlier.
Insane killer dolls with no other option but to cooperate set out in pursuit of a magical amulet that, according to their misguided beliefs, will allow them to inhabit the bodies of Tiffany's next-door neighbor Jesse and his girlfriend Jade. Following this, Chucky and Tiffany go on a murderous rampage across the country, leaving a trail of dead people in their wake as they attempt to transform back into human form.
More Post: A Hobbit The Lord of the Rings Costume 
Chucky's Bride Cosplay Costumes
Tiffany Valentine, also known as the Bride of Chucky, is a killer babe with a rock and roll aesthetic. A wedding dress, fishnet leggings, and a leather jacket are all worn by the doll that deranged serial killer Chucky imbued with the soul of his ex-girlfriend. All horror fans will love to cosplay this look because it is so cool.
Any horror convention would be a great place to wear this outfit, and if you decide to dress as the bride of Chucky, you'll probably need a friend to dress as the world's most well-known killer doll. For more costume ideas, see this page's Chucky guide!
Even though this is a fantastic look for most occasions, unless you have some seriously hip in-laws, we probably wouldn't suggest dressing like Tiffany for your wedding. However, if you're attending a Halloween wedding or a horror-themed event, dressing as Tiffany could be a unique and memorable choice. Just make sure to perfect the doll-like makeup and carry a prop knife for added authenticity. Remember, it's all about having fun and embracing your favorite horror characters! 
More Costume Post You May Like