Aayla Secura, who appears in Star Wars: Episode II Attack of the Clones, is a female Twi'lek from Ryloth. She is a Jedi Master who served in the Clone Wars. Aayla defeated anyone who got in her way with her advanced fighting skills! She has served as a Jedi Knight, Jedi General, and even a Master in battle. Nobody deserves such a distinction. The Battle of Geonosis was another significant battle in which she participated.
Aayla fought alongside Padme Amidala and Anakin Skywalker in her efforts to save Obi-Wan Kenobi in the Star Wars universe. She was put through many difficult situations that nearly killed her simply because she refused to let anyone die on her watch. Aayla is a brilliant character who can be pretty naughty at times. However, her playful nature strengthened her and made her nearly impossible to defeat.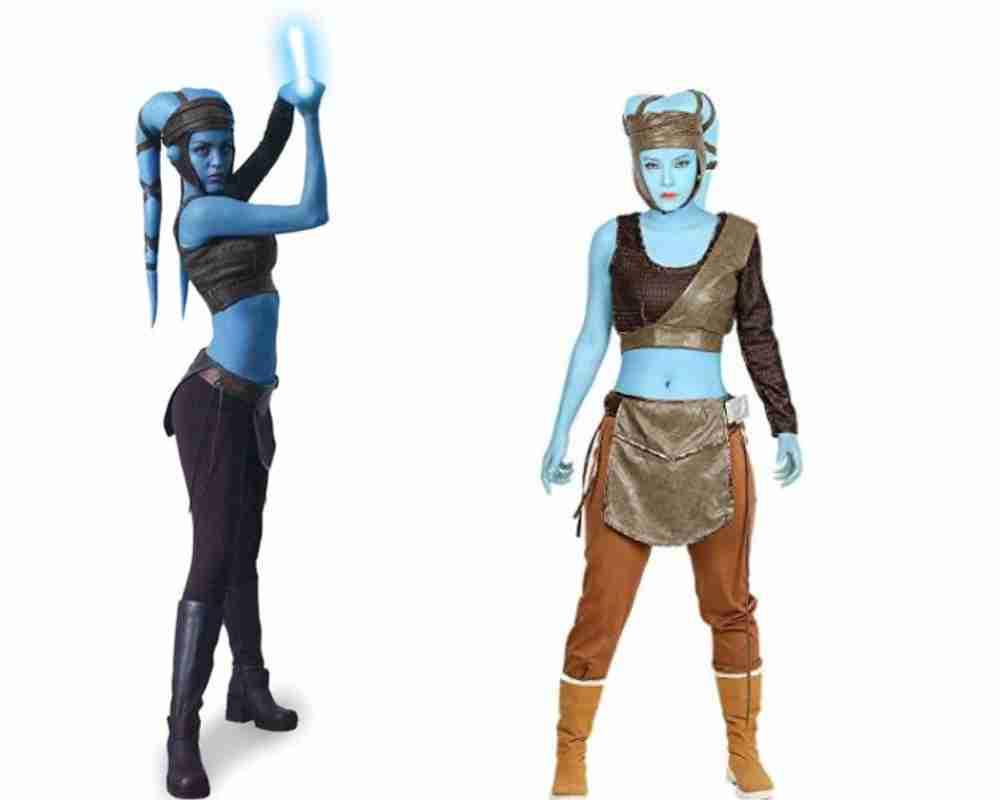 How to make Aayla Secura Costume?
Aayla Secura Blue Body Paint
Since Aayla Secura has a blue complexion, the first thing you need to do is paint yourself to match her appearance. Find a paint colour of high quality that won't harm your skin, and try it.
Aayla Secura Twi'lek Head Tails
Aayla possesses the distinctive blue head tails characteristic of all Twi'lek, just like every other Twi'lek. You have the option of either buying this item or making it yourself. One can find many "How to Make" tutorials on the internet.  
Aayla Secura Leather Head Wrap Set
Another item that has been positively associated with Aayla can be traced back to her. Find a headwrap set, or even better, make your own. Both options are available. Because you will only need one piece of brown leather, completing this task should not be overly challenging. 
Aayla Secura Brown Leather Boots
We can't imagine an action heroine who doesn't wear her reliable boots. Knee-high brown leather boots with either a low or medium-height heel are the footwear for this young lady.
Aayla Secura Tight Brown Pants
Unsurprisingly, Aayla Secura would wear skintight pants, given how hot she appears. Nevertheless, she is a Jedi, which means she is always ready for action; therefore, these pants should have some stretch to them. You already possess some of these in your wardrobe. Any variety will do the job admirably.
Aayla Secura Brown Crop Top
It would help if you also acquired a brown leather crop top, vest, or something along those lines. This is an additional article on clothing that you must receive. The original item falls somewhere in the middle and includes one protection sleeve.
Aayla Secura Leather Warmer Single-Sleeve Jacket
In the beginning, Aayla Secura is only seen wearing a particular, distinctive article of clothing. You should be ready if you wear this item with a brown leather vest or top.
Aayla Secura Brown Leather Belt and Apron
This item is an indispensable component of the outfit worn by every single superwoman, including Aayla Secura.
Aayla Secura Blue Lightsaber
Because she is a Jedi, this young lady's primary weapon is a lightsaber. Find the blue one that best complements his complexion.
Aayla Secura is from the planet Ryloth, and she, like all Twi'lek women, is known for her beauty. Nonetheless, this girl is Force-sensitive, and unlike other girls, she was not enslaved or turned into a dancer. She eventually became a Jedi master. She is a skilled swordsman who also possesses telekinesis and the ability to become invisible to the naked eye. Aside from all these abilities, she also included a high level of intelligence and was an excellent military tactician and leader.
The outfit that Aayla Secura wears complements her super-hot appearance. She is a curvy and athletic Jedi who prefers to wear too-tight clothing. Her signature looks include a single-sleeve crop top, tight pants, knee-high leather boots, and a belt with an apron. She is a Twi'lek, so she has those distinctive head tails, and her pigment is blue.
More Post : Janis Joplin Costume
About Aayla Secura
Aayla Secura wields the force powerfully as a highly-skilled Jedi. She possesses various abilities in addition to her incredible lightsaber skills and intellect. Telekinesis is one of them. This is an excellent defensive and offensive tool. She can use Force Push, and Force Pull moves to throw her opponents into the air or pull them and other objects toward her.
If you want to learn more about this super-hot Star Wars character, visit some of the following websites:
More Post: Freudian Slip Costume
Aayla Secura Halloween Costume Ideas
Aayla Secura, Jedi Knight, first appeared in Star Wars: Episode II, Attack of the Clones, and remained an essential character in subsequent Star Wars films. Aayla Secura was a member of a Jedi team sent to rescue Jedi Knight Obi-Wan Kenobi, Anakin Skywalker, and Senator Padmé Amidala before the Clone Wars. She is Twi'lek with incredible lightsaber abilities that few have, as evidenced by her blue skin. This Aayla Secura costume guide will help you match the Twi'lek Jedi Master.
Cosplay as Aayla Secura by wearing an Aayla Costume, a Laser Sword, a Leather Strap, Liquid Makeup, and Statement Lipstick. Aayla has her style as well as a different attitude!
Cosplay Costumes for Aayla Secura
If you want to cosplay a lesser-known Star Wars character but want to go with something other than the more popular characters, Aayla Secura is the right choice. Twi'leks is an instantly recognizable blue-colored Jedi Master and veteran fighter in many galactic wars, including the Clone Wars. This guide has gathered all the components you'll need to quickly and affordably recreate this look.
The most important aspect of the Aayla Secura costume is to get your body a similar blue color. Apply the liquid blue makeup to any exposed skin that isn't hidden beneath your clothing! Apply bright red lipstick now. Twist the leather wrap around your head in the same manner that Aayla does. Take out your lightsaber and prepare to fight as a Jedi Master! Please submit a photo of your Aayla cosplay to give others some cosplay inspiration as they follow the costume guide.
More Costume Post You May Like