Andriod, 18, who was forced to become a cyborg with her brother, is the result of a madman's revenge. While Android 18 is still one of the most formidable characters on the planet, she has been defeated and vanquished by more excellent warriors. Being a cyborg isn't all awful; Android 18 can fly, as well as extraordinary speed, strength, and durability.
Android 18 is also invincible. Unlike the other characters in this manga series, her energy is undetected with Ki Sense, making her more difficult to locate. She can control a spherical energy wave and a rapid-fire variant known as Infinity Bullet. She and her brother, Android 17, can overcome their adversaries by performing battle tactics together. Android 18 fights and finally defeats the guy who made her who she is. She is a lethal foe and a force to be reckoned with.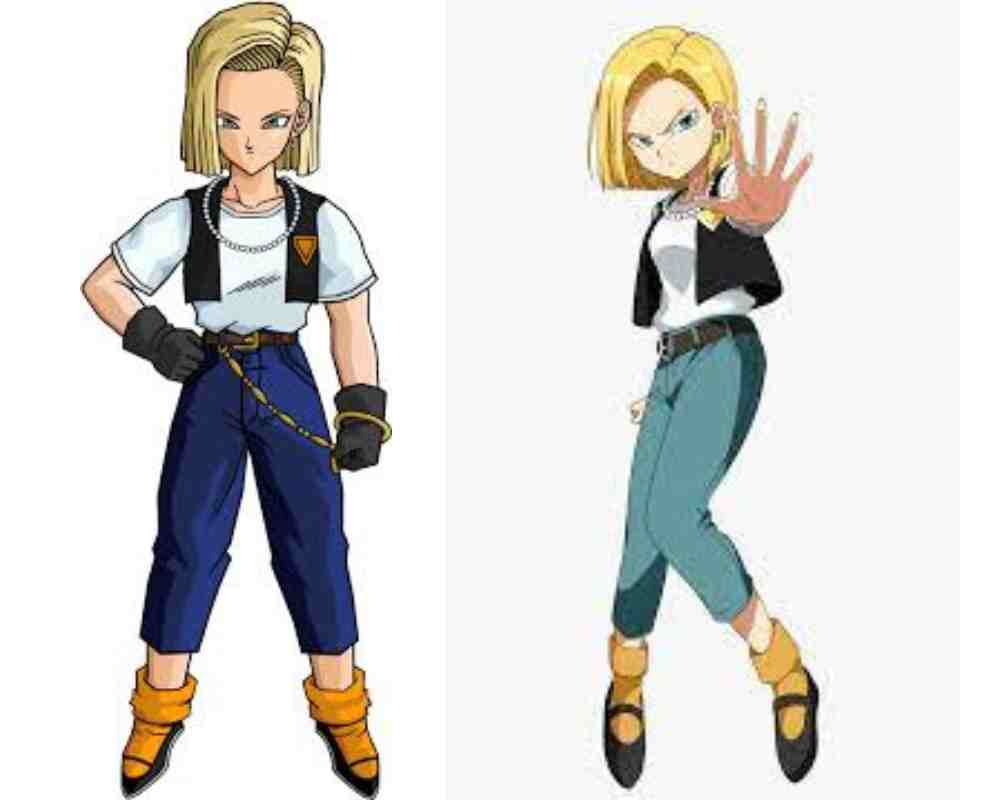 How to Make Android 18's Costume or How to Dress Like Android 18
Android 18 White Long-sleeved Shirt
It would be best if you chose a basic white shirt with long sleeves and black stripes.
Android 18 Black Tank Top
Choose a simple black tank top that you can put over the top of the shirt.
Android 18 Blue Denim Vest
On top of that, put on a denim vest.
Android 18 Blue Denim Skirt
Grab a denim skirt to go with the vest you bought.
Android 18 Brown Leather Belt
Belts made of brown leather of any basic style would do.
Android 18 Black Leggings
Leggings in a dark color should be worn below the skirt.
Android 18 Brown Leather Boots
Get yourself a classic pair of brown leather boots.
Android 18 Blond Bob Wig
Make a replica of Android 18 by donning a blonde bob wig.
Android 18 is a beautiful young woman with pale and golden hair. She is dressed in a white T-shirt with long sleeves under a black tank top, a denim vest, a jean skirt with a brown belt, and black leggings with brown boots. If you want to emulate her look, check out our list below!
More Post : Misty Pokemon Costume
About Android 18
One of the significant characters in the popular Japanese anime series Dragon Ball is Android 18. Son Goku, a warrior with a monkey tail, embarks on a mission with many other characters in pursuit of the Dragon Balls, a pair of powerful orange crystals that may grant their possessor any wish.
Android 18, Dr. Gero's eighteenth android creation, was created to exact revenge on Goku. She is also Android 17's twin sister. Android 18 joins the Z Fighters and marries Krillin, becoming the mother of their daughter Marron.
Guide to the Best Android 18 Halloween Costumes
We strongly recommend Dragon Ball's Android 18 as a fascinating manga character to cosplay. We can help you get her unique style by following our tips! We recommend a Denim Distressed Sleeveless Vest for the upper part of her outfit. We've layered a Sleeveless Spandex T-shirt and a Long Sleeve Striped T-shirt underneath the vest.
We recommend a Denim Mini Skirt over a pair of High-Quality Stretchy Leggings to complete her appearance—Accessorize with a Gold Buckle Leather Belt and Round Toe Boots. Add a Dragon Ball Z Red Ribbon Patch to your ensemble for a finishing touch.
More Post: Teen Titan Raven Costume
18 Android Cosplay Costumes
Typical manga character Android 18 has a trendy appearance that may be fun to cosplay. Her style is reminiscent of her debut in the 1990s, which adds to the pleasure. Denim is the first order of business; you'll need a vest and skirt made of it. You've almost nailed her look with a tight, striped, long-sleeved shirt over a looser black sleeveless shirt!
Take out those black leggings we all seem to have in our wardrobes and match them with a brown pair of round-toed boots or any ankle boot. The patch is a lovely touch that lets everyone know who you are, but true fans won't have to guess. You may have a pal dressed up as Android 18's sibling, Android 17, or even Android 16 for group activities. You may always bring in the infamous Dr. Gero. More ideas may be found in our featured photos, and as usual, we welcome your entries!
More Costume Post You May Like