Archie, as previously said, is just a typical guy living a normal life. He enjoys milkshakes, sports, and going to the beach. But, he is distinguished by one feature. He enjoys spending time with women. So that's not such a huge issue, is it? What about the fact that he has two girlfriends? That's correct. Archie is living every man's fantasy. He adores two females, and they adore him as well! Not only that, but they are also fighting for him!
But it isn't all. Despite the fact that he spends a lot of time manipulating the emotions of women, he's a nice guy. He's devoted, talented at sports, and enjoys himself. There were occasions when his team relied on him to win games, and he always delivered. He adores his buddies and they adore him, however he could do without Reggie's famed pranks!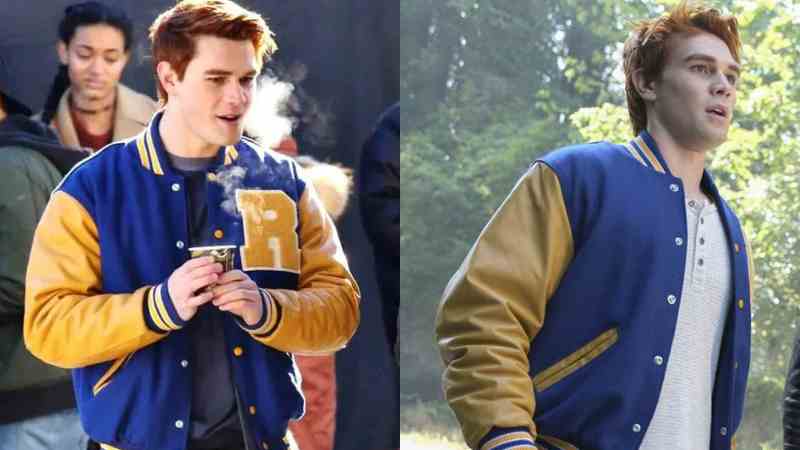 How to make Archie Andrews Costume from Riverdale
Archie Andrews Blue and yellow varsity jacket
The Riverdale series has a very talented Archie who enjoys sports, particularly football; thus, the varsity jacket with his school colors (yellow and blue) and a decorative "R" in a collegiate type of typeface that stands for Riverdale High School.
Archie Andrews White, V-neck t-shirt
Wearing a white, V-neck t-shirt is strongly recommended, not only because it will make your outfit seem exactly like the one on TV, but also because it will not draw attention away from the rest of the costume. Don't worry if you don't have one of these. You can use a long-sleeved, Henley t-shirt like Archie and it will look just as good.
Archie Andrews Regular-fit, blue jeans
We recommend regular-fit, acid-washed blue jeans, but you can wear other jeans that are similar.
Archie Andrews Gray Converse sneakers
Let's not forget that Archie prefers to keep things basic from head to toe, which is why he appears to favor lace-up, trendy sneakers, most notably All-Star Converse. Just make sure they're somewhere in the blue-grey color range.
Archie Andrews Wig
If you don't have red hair, wear this wig or dye it.
Archie Andrews Costume Ideas
Archie Andrews, as shown in Archie Comics, is a typical guy from a normal town who attends a normal school. So, what distinguishes him? One thing is certain: he likes girls. And by like, we mean he adores females. He spends his time with his gang, doing sports, and juggling multiple relationships, and is known for his cross-cut red hair and freckles.
If you go to Riverdale, dressing up as Archie is simple, but if you don't, here's everything you'll need. To begin, put on Archie's distinctive White Slim Fit Dress Shirt. Layer a bright yellow Men's Classic Pullover Sweater on top. Get a stylish pair of Levi's Men's Chino Trousers with the ever-popular Nike Airforce 1 shoes. Use a Blue & White Vintage Varsity Jacket with the Varsity Letterman Capital Letter R affixed to the left side of your Jacket to complete the appearance. Boom! Archie, you are!
More Post: Costume for Vanessa Kensington
Cosplay Costumes for Archie Andrews
Dressing up like Archie is as simple as it gets. The main thing you need is a relaxed, upbeat attitude and a winning smile. To make things look even more authentic, try to imitate some of Archie's freckles with face paint. If you're feeling even more daring, visit your barber and have your hair styled in Archie's distinctive style: the red crosscut!
But that's only the beginning. Request that your friends, particularly your female friends, dress up as Betty and Veronica. Remember to add Reggie and Jughead in your group as well. You and your pals will have a great time cosplaying as the legendary American gang of Riverdale! Check out the costume collection for additional ideas on how to cosplay Archie and his pals. Send us your cosplay photos and we'll post them.
Archie Andrews Bio
There are no designs or vivid colors. These costumes are intended to draw attention to Archie's athletic characteristics and make him appear to be the archetypal high school football star.
More Post: Ren McCormack costume
Riverdale Archie vs. Archie Comics
Riverdale Archie and the comic book version bear little resemblance. But for a few details, such as the fact that they're both heartbreakers, sportsmen, musicians…and gingers, you could almost argue these are two completely different individuals. Their wardrobes, on the other hand, contrast like water and oil.
Riverdale Archie values simplicity and comfort. Simple Henley tees, short-sleeve tees, cardigans, blue jeans, and sneakers. Archie's varsity jacket would be the single most noticeable piece of apparel in his ensemble.
The comic book Archie, on the other hand, used to be much more flashy and the epitome of 1940s fashion. Initially, he wore red, orange, or yellow checkered slacks with short-sleeve shirts and black sweater vests with a huge yellow "R," which became a recurring piece in his costumes. Yes, his tastes evolved with the times, but he still had that Mr. Goody Two-Shoes vibe about him until recently.
Archibald "Archie" Andrews, played by KJ Apa, may be better known to younger audiences thanks to the TV show Riverdale, but he is one of the oldest comic book characters in existence. To give you an idea, the Golden Era of Comic Comics began in 1934. Archie's debut appearance was in Pep Comics in 1942, making him only four years younger than Superman.
With the rise of horror comedy programs, it was only natural that Archie would make some alterations to remain relevant to a new audience. Nonetheless, certain things remain constant. He's still a musician at heart, and he's forever caught up in a love triangle with Betty and Veronica. He attends Riverdale High School and was the football captain for a short time before committing himself entirely to "music."
More Costume Post You May Like