The 100 Floors of Fright feature David S Pumpkins, a not-so-scary scary character. Those skeleton sidekicks will help him scream and shout, so you'll scream and shout.
However, how would a man dressed in a pumpkin suit with curls on his head scare you? Take the elevator up there if you want to find out what it's like on the 100th level.
With two skeleton-clad backup dancers accompanying him, David S Pumpkins appears as if he is an ordinary show host. However, the suit he wears is decorated with pumpkins. Let,s make David S Pumpkins Costume for Halloween.
Pumpkins even adorn his tie! It's hard to imagine a better Halloween host than him. Here is everything you need to look like in David S Pumpkins Costume.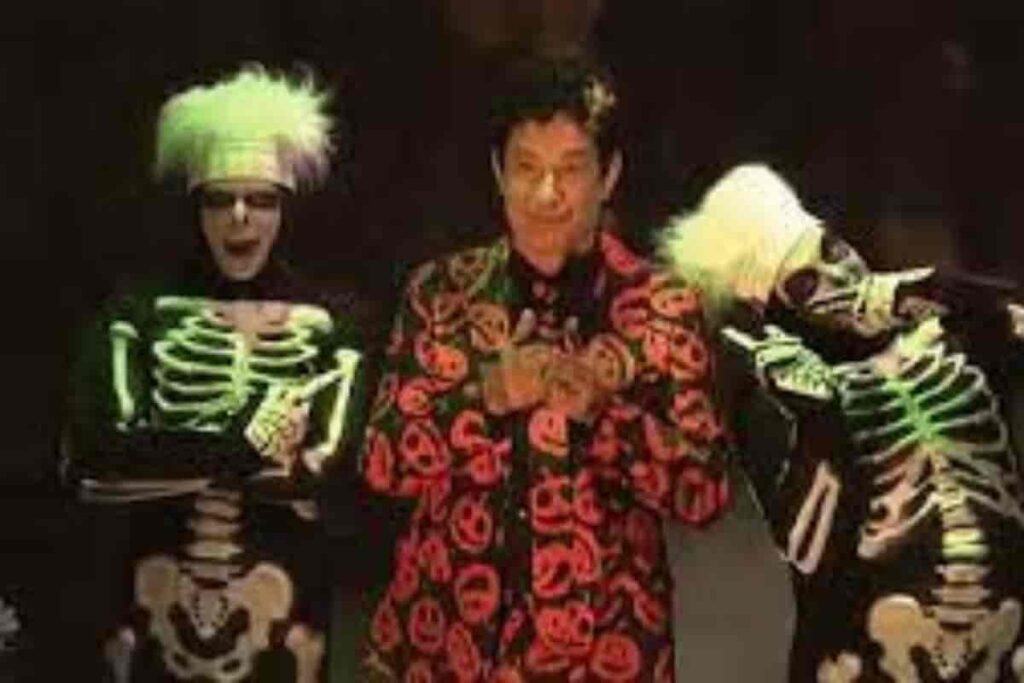 How to make David S Pumpkins Costume
David S Pumpkins Black Dress Shirt
Your suit should be worn with a black dress shirt underneath it.
David S Pumpkin Suit and Tie
It is David's trademark to wear a suit and tie with pumpkin designs.
David S Pumpkins Black Oxfords
When it comes to someone with the dignified persona of David, classic black oxford shoes are a perfect choice.
David S Pumpkins Black Wig
The best way to achieve David's iconic look is to wear a short, curly, black wig with a streak of white paint on the left side so that you can achieve the perfect detail!
How to dress like Backup Skeletons
Black Skeleton One-Piece Suit
To be David's backup, you must wear a black one-piece suit with a skeleton design.
Backup Skeletons Shocking White Wig
To emulate the craziness of David's skeleton pals, wear a shocking white wig if you want to emulate their crazy behavior.
Backup Skeletons White Shoes
To complete your outfit, you should wear a pair of white shoes.
About David S Pumpkins
Tom Hanks played the role of David S Pumpkins. He was joined by Mikey Day and Bobby Moynihan, two of the three writers who created Pumpkins.
For more information about Saturday Night Live: David S., visit these sites. In a sketch on Saturday Night Live titled Haunted Elevator, Tom Hanks plays the fictional character Pumpkins, who goes into the haunted house attraction 100 Floors of Flights with Beck Bennett and Kate McKinnon. David S. Pumpkins insists he is there to "scare the hell outta you." He is flanked by two oddball characters in skeleton costumes who dance with him on random floors.
Despite wearing a horrible suit covered in pumpkin pictures, Pumpkins doesn't do anything to scare the couple until the final scene when he appears inexplicably in the elevator. David S. Pumpkins Halloween Special aired in 2017, and Hanks reprised his role for the voiceover. He also appeared in a rap song sketch as David S. Pumpkins.
Cosplay costumes of David S. Pumpkins
After initially rejecting this role in favor of Chris Hemsworth, Tom Hanks has embraced it. This strange, ghastly-suited man also seems to have become a favorite of the public, who have fallen in love with his catchphrase, "Any questions?" The internet went wild over his antics, so he is sure to be a popular choice for Halloween cosplays.
You'll need some friends to dress in skeleton outfits and dance with you if you want to cosplay David S. Pumpkins to perfection! Pumpkins' motto is "scare the hell outta you," so he's the perfect Halloween costume. So don't forget to submit your Halloween pictures.
More Post: Dead housewife costume for Halloween
Halloween Costume Guide for David S. Pumpkins
Halloween is David S. Pumpkins' favorite holiday. In a 2016 Saturday Night Live episode, Tom Hanks played the character, and it quickly gained popularity. It is probably more ghoulish than any of Pumpkins' antics that he wears a suit decorated with pumpkins. Designed as a Santa Claus-type character for Halloween, he comes with two odd-looking dancers dressed as skeletons. As part of a sketch called 'Haunted Elevator,' he appeared on various hotel floors.
He also appeared in his own animated Halloween special, The David S. Pumpkins Halloween Special, in 2017. A David S. Pumpkins Wig, Pumpkin Tuxedo Costume, Black Dress Shirt, SNL David S. Pumpkins Socks, and Black Dress Shoes will help you achieve this extraordinary look.
More Costume Post You May Like