Alice Angel is a character in the twisted video game Bendy and the Ink Machine. The story revolves around Henry, a former animator welcomed back to Joey Drew Studios, where he worked 30 years ago. He discovers the Ink Machine and attempts to repair it but soon finds himself locked in a nightmare world full of ancient characters generated by the machine. Get more info about Alice Angel Costumes…
Alice Angel is one of the characters previously appearing in cartoons, voiced by an actress named Susie Campbell. Susie had always claimed a unique connection to her role. It is indicated that when a mad, evil version of Alice arises, Susie becomes a bizarre hybrid with the character she had voiced so many years before. On the other hand, Alice is renowned as a lively character from classic cartoons who enjoys singing and dancing.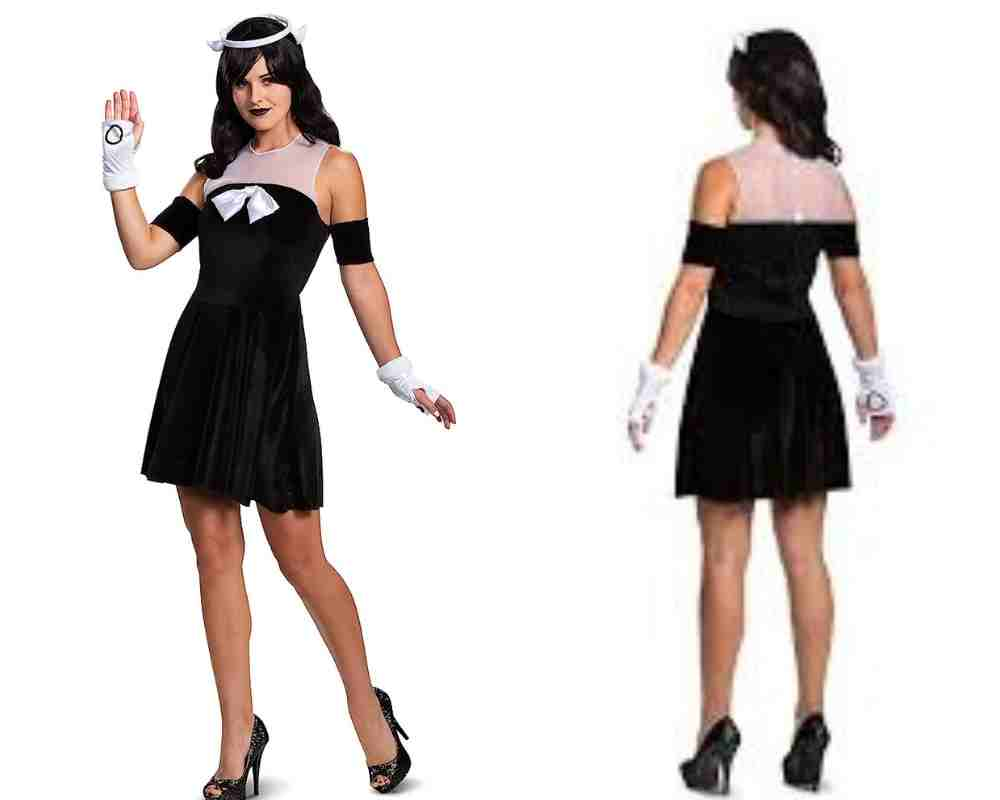 How to Make an Alice Angel Costume or How to Dress Like Alice Angel
Alice Angel Shirt, gray
Because Alice is based on an old-school animation, her body is white or gray. Because it covers your upper body in color, this light gray shirt will help you achieve the same look.
Alice Angel Tights, gray
Under the dress, you are supposed to wear these tights, as they serve the same purpose as the shirt and are worn for the same reason.
Alice Angel Dress, vintage, black
Alice is seen in the classic cartoons of the era with a long black dress in the style of the past. This clothing is adorable on top of being comparable to what she wears most of the time.
Alice Angel Bowtie, white
You're going to add a little touch of charm to your clothing with this white bowtie. You may emulate Alice by pinning the bow directly under your bust.
Alice Angel Sleeves, black
Alice's dress sleeves only partially cover the sleeves she wears on her arms. Therefore there is a gap between the two sets of sleeves.
More Post : Ruby Roundhouse Jumanji Costume
Alice Angel Gloves, white
Alice, much like the majority of the older-style cartoon characters, has white gloves on her hands.
Alice Angel Halo, headband
Alice does not have wings since her halo represents her angelic position better than branches.
Alice Angel Horns, white
In addition to the halo, Alice possesses small white horns that protrude from the back of her dark hair. These horns are similar to those that will be seen here.
Alice Angel Face paint, gray
You will want to apply this gray face paint to every portion of your Face and neck that is exposed, even the areas not concealed by the gray shirt and leggings.
Alice Angel Wig, black
Alice's hair is almost entirely straight and has a very jet-black color. As you can see, she also has bangs added to her hair, much like the ones on this wig.
Alice Angel Heels, vintage, black
The finishing touch to this outfit, Alice's shoes are a pair of heels in a vintage style that she wears on her feet.
More Post: Stevie Nicks Costume
About Alice Angel
Alice Angel appears in the horror video game Bendy and the Ink Machine. Alice's persona is based on old-school cartoon characters, and her appearance reflects it.
She is initially a decent character corrupted by another character in the game. Alanna Linayre plays Alice in the game.
Alice Angel's style is considered vintage and goth, and she usually dresses in monochrome outfits. Her identity is based on old-school black-and-white cartoon characters. Therefore she dresses in a retro black-and-white outfit.
Her style is simple to achieve, consisting of a classic black dress, gray base clothes consisting of a shirt and tights, and a few accessories such as a white bow and beautiful small white horns. Her costume may be classified as creepy-cute; aside from her horns, all her clothes are pretty cute, but her makeup pulls out the horror in her look.
You can achieve Alice's precise and sophisticated makeup for your costume by following this handy beauty lesson.
Guide to the Greatest Alice Angel Halloween Costumes
Alice Angel is a character in the Bendy and the Ink Machine survival video game series. Alice, one of several characters from a 1966 cartoon series, comes back to life in this computer game. The player must combat what look to be demonic manifestations of characters created 30 years ago by cartoonist Joey Drew.
Alice is seen to have a gift for singing and dancing and looks to be a pretty cheerful character, but Alice, like her appearance, which has a halo and devil horns, has a dark side, with 'Evil Alice' appearing in later chapters of the game. You'll need a Full Body Suit, Face Paint, Devil Horns, Halo Headband, Off Shoulder Dress, Bow Tie, Arm Sleeves, and Dress Pumps to transform into the singing and dancing cartoon from Bendy and the Ink Machine.
Cosplay Clothes for Alice Angel
Bendy and the Ink Machine is one of the most esoteric video games available, which is precisely what we like about it! It's a touch unsettling but a lot of fun, thanks partly to the lively and colorful characters like Alice Angel. The classic Betty Boop cartoon inspires her clothing, and she has that excellent 1930s aesthetic. Also, this outfit allows you to be both wicked and polite at the same time.
So, what are you waiting for? Put on your devil horns, halo, and fabulous little Alice Angel dress, and have fun. Sing and dance as Alice would! But don't be as bad as Evil Alice. You still want to maintain your friendships. They may want to join you as any of the game's other significant characters, such as Bendy and Boris!
More Costume Post You May Like