Pokémon trainer Ash Ketchum's style is sporty, casual, and 90s-inspired. Because he's an active teenage boy, his outfits are versatile and include a few trendy items. For example, under a blue and white button-up shirt, Ash wears a simple green shirt to make your best Ash Ketchum Costumes for Halloween.
The bottom half of his outfit consists of simple blue jeans and 90s-style sneakers. Among his accessories are a pair of green fingerless gloves, a brown belt, a green backpack, and his Pokeballs.
How to Make an Ash Ketchum Costume
Ash Ketchum Shirt, green
The green shirt Ash wears under his blue overshirt matches his other green items.
Ash Ketchum Shirt, blue, button-up
As one of Ash's very well-known pieces, this blue button-up shirt is an item that he frequently wears throughout the series.
Ash Ketchum Jeans, slim-fit, blue
Even though Ash wears regular jeans, they are a slim fit, not quite skinny, and they are light blue. His outfit looks very youthful thanks to the light blue colour.
Ash Ketchum Backpack, green
In order to be able to go on so many adventures and quests, Ash needs a backpack that he can carry along with him. As you can see from the picture, this green backpack is similar to the bag Ash uses.
Ash Ketchum Belt, brown leather
Ash's brown leather belt adds some maturity and normalcy to his look.
Ash Ketchum Gloves, fingerless, green
Ash's green gloves are quite the fashion statement, showing a bit of the trendiness of the 90s, which was when Pokemon was one of the most popular anime shows of the 1990s.
Ash Ketchum Snapback, red & white
Embroidered on Ash's snapback hat is the team logo in red and white.
Ash Ketchum Sneakers, white & blue
Ash's sneakers mostly have a white base and blue accents, making them classic 90s-style sneakers.
Ash Ketchum Pokeballs
Ash has a lot of Pokeballs containing various Pokemon creatures because he is a Pokemon trainer.
More Post: Agatha Harkness Wandavision Costume for Halloween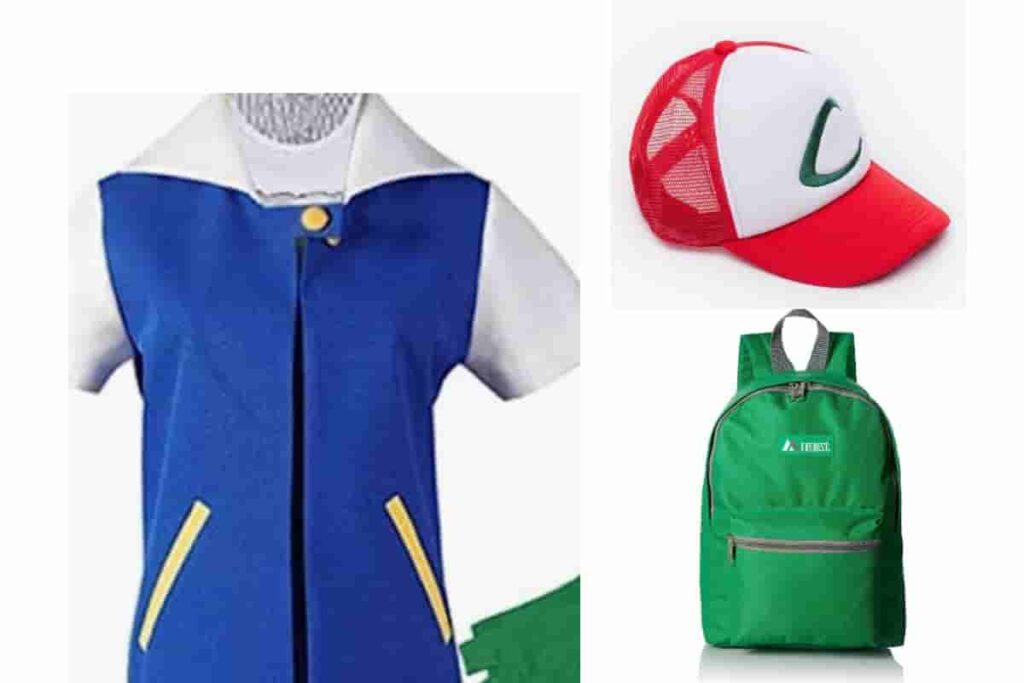 About Ash Ketchum
In the popular 90s anime Pokemon, Ash Ketchum is the main character. The famous electric type Pokemon, Pikachu, is owned by Ash, a Pokemon trainer.
Pikachu and Ash are the faces of the Pokemon anime series and are known to many people around the world.
Pokémon crime organization Team Rocket is Ash's constant enemy throughout the series. Following Pikachu's defeat, Jessie and James obsessively follow Ash throughout the series. Ash's "powerful" Pikachu will make them wealthy if they steal it and give it to their boss. Ash's goal is to become a better trainer than Gary Oak, his childhood friend, by collecting more Pokemon and earning gym badges. The difference between Gary and Ash Ketchum was always that Gary was a better trainer.
More Post: Drop Dead Fred Costume for Halloween 
Dress up as Ash Ketchum in a cosplay costume
It is Ash Ketchum who is most commonly cosplayed as a Pokemon character. So, dress up as the famous Pokemon trainer from Pallet Town! As shown in the guide above, you can wear Ash's original outfit as a cosplay costume from the first Pokemon anime series or mix it up and wear an alternate outfit from the last Pokemon magma series. Dressing up like Ash will gain the approval of cosplayers no matter what look you choose.
What better character to dress up as for Comic-Con, Halloween, or any other convention than Ash Ketchum? Bring some fun together as a group dresses up as Brock, Misty, or James from Team Rocket! A Pokeball and your favourite Pokemon stuffed animal, Pikachu, can make you feel like Ash. Check out the featured images with Pokemon fans dressed as Ash Ketchum for cosplay ideas and inspiration.
Halloween Costume Guide for Ash Ketchum
Find out what it's like to be Ash Ketchum from the popular Pokémon anime series owned by Nintendo. Despite Ash's dreams of becoming the next great Pokémon master, Professor Oak gave him the stubborn Pikachu when he went to choose his first Pokémon.
With an Ash Ketchum costume, Misty and Brock are ready to go on an adventure to catch them all while wearing an Ash Ketchum Trainer Shirt, 505 Regular Fit Jeans, Embroidered Trainer Hat, and GV Special Fashion Sneakers. Adding an Ultraclub 7707 Backpack, Large Plush Pikachu, and Lights and Sounds Poké Ball completes the costume.
More Costume Post You May Like