As Deathstroke's signature outfit, he wears a black bodysuit with orange armor parts and masks. While Deathstroke has mastered various martial arts and hand-to-hand combat skills, he is adept at using swords, combat knives, pistols, and sniper rifles, all of which are his signature weapons. Follow our list below if you want to become as excellent as Deathstroke without having to undergo any procedures! Let,s make Deathstroke Costume.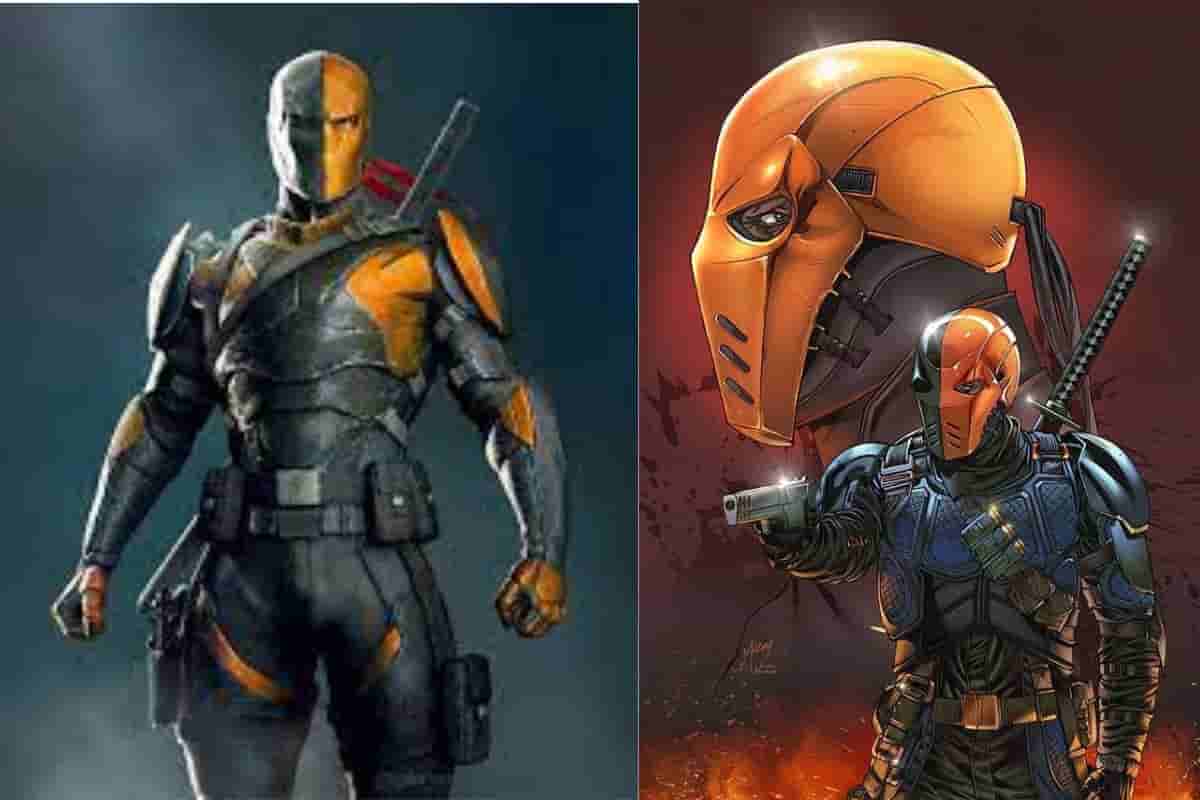 How to make Deathstroke Costume
Deathstroke Full Head Mask
Obtain an orange and black Deathstroke mask/helmet that is realistic. In choosing a fabric mask, you may also select a mask made up of the same colors.
Deathstroke Orange Motorbike Armor Jacket
If you want a natural upper body part, you should look for an orange and black motorbike armor jacket.
Deathstroke Orange Motorbike Gloves
Choose racing gloves that complement your jacket with orange and back colors.
Deathstroke Protective Pants
It is possible to accomplish the task with any pair of skinny black pants, but it would be much more realistic to use protective pants instead.
Deathstroke Orange Racing Boots
In terms of color schemes, you should search for racing boots in black and orange hues.
Deathstroke Dual Ninja Swords with Back Carrying Scabbard
You can enhance the appearance of your costume with a pair of stainless steel samurai swords, which come with a sheath that you can carry on your back. If you prefer more safety options, it may be better for you to choose a different material, such as foam.
Deathstroke Military Equipment Belt
I would recommend any plain black equipment belts suitable for this purpose.
Deathstroke Tactical Leg Holster
With a simple design, you can get a simple gun holster for your leg in black.
Deathstroke Rubber Pistol
The other gear that you will need for your gun holster is a pistol costume that you will need in black color.
Deathstroke Action Figure from Funko POP
Look at this cute little action figure of Deathstroke from Funko POP and get yours today.
More Post : Barden Bellas Pitch Perfect Costume for Halloween
About Deathstroke from DC Comics
It is no secret that Deathstroke, more commonly known as Slade Wilson, is the most feared and most potent assassin in all of DC Comics. He was famously played by Manu Bennett in the CW series Arrow and by Joe Manganiello in the upcoming DCEU movie. In addition to being a mercenary and a military member, Deathstroke has also participated in hazardous and classified missions. As Slade was eager to improve his abilities, he underwent an experimental procedure that resulted in him being granted enhanced speed, strength, and intelligence, effectively making him the world's most potent and most dangerous soldier combined with his high intelligence.
He is also a good strategist and tactician because of his high level of intelligence. Deathstroke has faced Batman, Nightwing, Cyborg, Raven, Starfire, Green Arrow, and others in the comics. Dare-devil and complex tasks do not faze Deathstroke, for he loves challenges; the more challenging, the better. As one of the most gifted fighters and influential heroes in the DC Universe, Deathstroke can stand toe-to-toe with many of them.
A guide to the best Deathstroke Halloween costumes
The real name of Deathstroke is Slade Joseph Wilson, and he is a mercenary and assassin. In DC Comics comic books and popular TV shows, Deathstroke appears. He is the arch-nemesis of Green Arrow on the famous show Arrow on The CW and the antagonist on the show Teen Titans on Cartoon Network. It is widely believed that Deathstroke is one of the greatest villains of all time. With this complete costume guide, you will be able to match the look of this supervillain if you follow it to the letter.
To look like Slade Wilson in cosplay, you will need quite a few items to look the part:
A pair of Motorcycle Gloves and the infamous Deathstroke Mask Helmet is a must.

You'll need a pair of Swat Belted EMT Pants. It would be best if you equipped yourself with a pistol, grenade pouch, and hand grenades.

You should wear Motorcycle Full Body Armor with Knee, Shin Guards, and Jungle Boots.

Complete the cosplay with a Nylon Carrying Case and a Wooden Samurai Training Bokken to make it complete.
More Post: Ant man Costumes for Halloween
Cosplay costumes for Deathstroke
In the DC Comics universe, Deathstroke is a superhuman mercenary and strategist. The mask he wears, which is half-black and half-orange, represents the fact that he has a blind eye, which is the only permanent part of his body that he cannot regenerate. As for the rest, he is extremely confident and highly adept at using weapons of all kinds, which is why he carries pistols, grenades, and a samurai bokken with him everywhere he goes.
Even though Deathstroke can defeat his enemies alone, he cannot do so alone. Dress up as some of your favorite villains from the DC Universe, such as Bane, Captain Cold, and Deadshot, and gather a group of friends to do the same. You and your friends can create the injustice league. You can also mash up with characters from the Marvel Universe, such as Deadpool and Kingpin. Browse the hundreds of costume guides to find inspiration for other villains and superheroes! You don't want to miss out on submitting your Deathstroke cosplay!
More Costume Post You May Like