FN-2187 is a newcomer to the Star Wars franchise. Nicknamed "Finn" by Resistance pilot Poe, FN-2187 is an otherwise nameless stormtrooper who refuses to take innocent lives in the line of duty. As a child, Finn was indoctrinated by the First Order before facing a command he could not obey in good conscience. It was as if Finn had an awakening, and even though he did not know what he wanted to be, he knew who he did not want to become. Let,s make Finn Star Wars costume.
Finn was taken to places he had never imagined when he decided to rebel against all he had known and to take off into the unknown—having Poe as a part of his escape plan set in motion a chain of events that led him to his true destiny, helping Rey and BB-8 find the legendary Luke Skywalker while being tasked with riding in the Millennium Falcon with none other than Han Solo and Chewbacca! Cosplaying as characters from Star Wars movies is always a great way to honor these characters and show your love for them!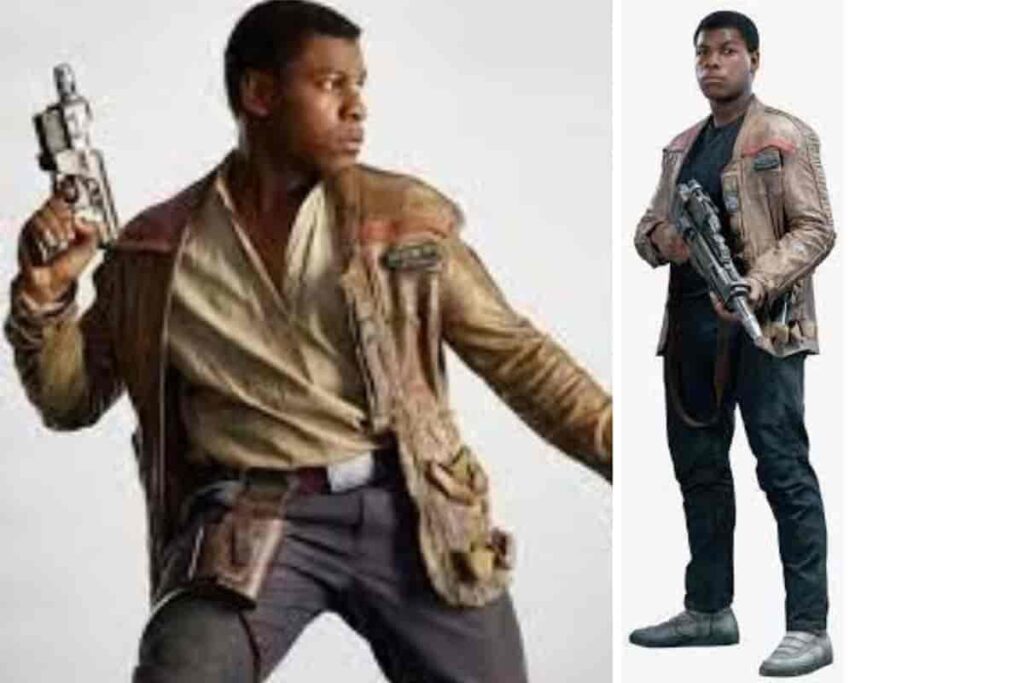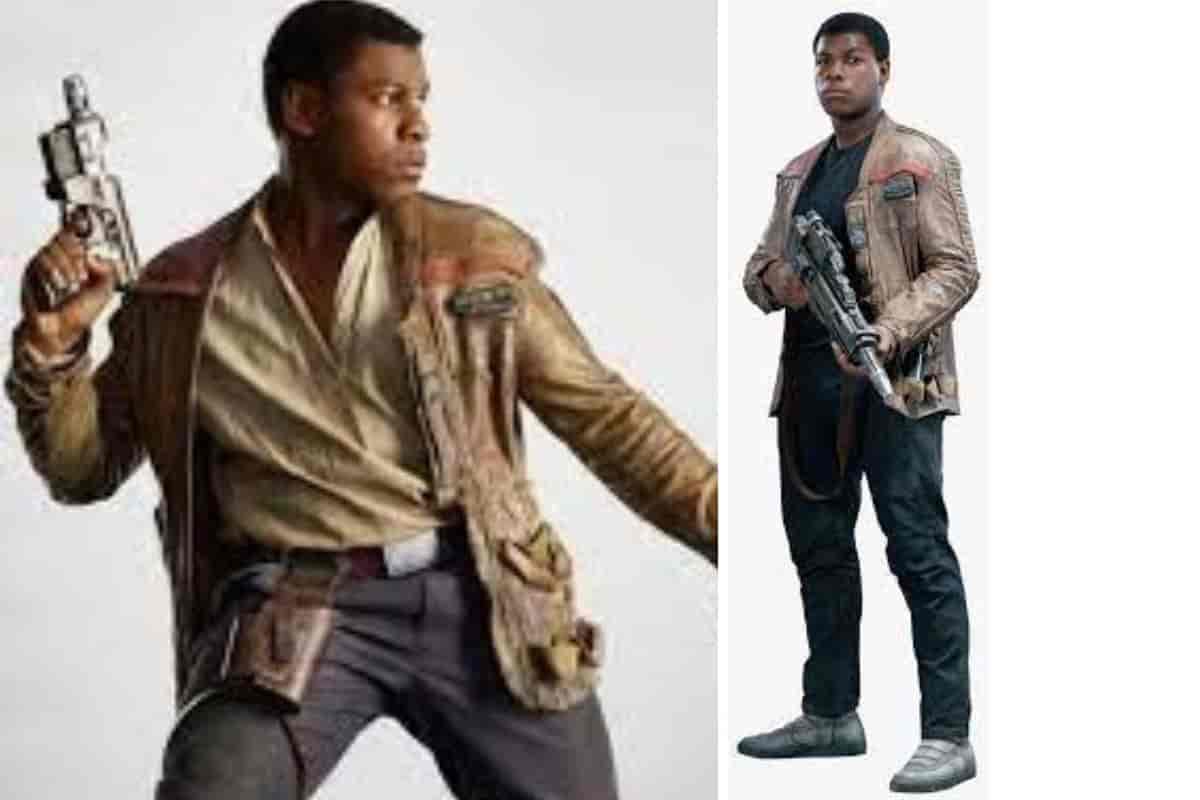 How to make Finn's costume
Finn Black, long sleeve, knit t-shirt with a crew-neck
As part of your costume, we suggest you wear a black, long sleeve knit t-shirt with a crew neckline; however, you may also use a regular black, long sleeve t-shirt or even one with short sleeves if you wish. If you cover it with a jacket, it is fine since you will cover it up.
Finn Black canvas-pants
Specifically, these are black, tapered, slim-fit canvas pants, but any black pants will do, as long as they are black.
Finn Brown leather jacket (racer style)
Undoubtedly, this is one of the essential parts of the outfit. Finn's racer-style, the brown leather jacket, is his most distinctive clothing.
Finn Black, slip-on sneakers
We recommend Po-Zu's white, slip-on ankle sneakers as an excellent choice for die-hard Star Wars fans, as they are a replica of the ones Finn wears in the movie, only cleaner, as these are the sneakers the character wears in the film. If you would like something close enough to replicas for about half the price, however, you might want to consider the Gracosy slip-on booties you can find by clicking on the link to your left.
Finn Finn Blaster With Strap
Lastly, don't forget to add this blaster to your outfit. This is a close replica of the one in the movie and makes for a great prop you can use if you want to pose in your pictures with it.
Finn Deluxe Adult Finn Costume
For those who do not want to track down everything on this list, we have included the Amazon link, where you can find the entire costume, which can be found by clicking on the link below.
More Post: Bruno Mars Costume 
A general description of Finn's appearance
Star Wars Episode VII: The Force Awakens introduces us to various new characters and creatures we have never seen before. There is one renegade Storm Trooper from the First Order who has previously been known as F-2187, and he is included among them. As the story progresses, Finn's outfit changes dramatically from his Storm Trooper armor to a more modern outfit.
As Finn finds himself stranded in Jakku's desert, he has no choice but to remove his First Order outfit, revealing his black long-sleeve t-shirt and black pants underneath his white plating. Unfortunately, despite his attempts to save Poe Dameron, he only finds the brown, racer-style leather jacket Poe used to wear.
He wore only a black, long-sleeve t-shirt, black pants, and a distinctive brown leather jacket with red patches. In the latest episode, his attire changed a bit, but cosplayers prefer his outfit from The Force Awakens.
A guide to the best Finn Halloween costumes
Like Finn from Star Wars Episode VII: The Force Awakens, join the Resistance against the First Order. Finn was trained as a Stormtrooper by the First Order as a child and given the designation FN-2187. As a result of his first mission on Jakku, Finn turned against the First Order and fled.
In this set, you can find a Finn Pilot Jacket, a Tagless Long Sleeve Black T-Shirt, Slim-fit Multi Pockets Military Cargo Pants, and California-V Suede Jogging Shoes that you can use to escape the First Order and become a member of the Resistance. But, of course, you'd be fooling yourself if you didn't have your Finn Blaster With Strap.
More Post: Ant man Costumes
Dress like Finn in a cosplay costume
As yet another member of the Star Wars franchise, Finn is a welcome addition to the cast. While this cosplay is simple in the wardrobe department, you must follow our guidelines to be readily recognized. It's easy to pull off an all-black outfit, and now that the movies are out in theaters and more will follow, finding a toy stormtrooper weapon is easier than ever!
Among Finn's most notable features are his jacket, which fans will know isn't his! He can complete his signature look with a brown leather jacket or even a cloth jacket embroidered with red details. Cosplayers who have a partner in cosplay would be lost without Finn's new friend Rey. Han Solo's and Chewbacca's appearances are the most awesome in this film. Cosplaying those characters would be a great way to represent two generations. For more ideas, could you take a look at our featured pictures? Please show us your impressions by sending us your pictures!
More Costume Post You May Like