The Star Wars series includes many characters, such as Darth Maul. As the villainous character from Star Wars: Episode I – The Phantom Menace and Star Wars: The Clone Wars, he appears in the films. In becoming Darth Sidious' apprentice, he developed his evil side. In the infamous lightsaber duel between Obi-Wan Kenobi and Darth Maul, Obi-Wan defeated Darth Maul but didn't destroy him.
The vengeful Darth Maul returned to redeem himself. By destroying all Jedi Masters, Darth Maul hoped to rule the entire galaxy, not just Obi-Wan. Darth Vader and Sidious overtook Darth Maul at one point. Overtaking them was his goal, but he ultimately failed. The final battle between Obi-Wan ended in Obi-Wan's defeat. Let,s make your Star War's Darth Maul Costume for Halloween.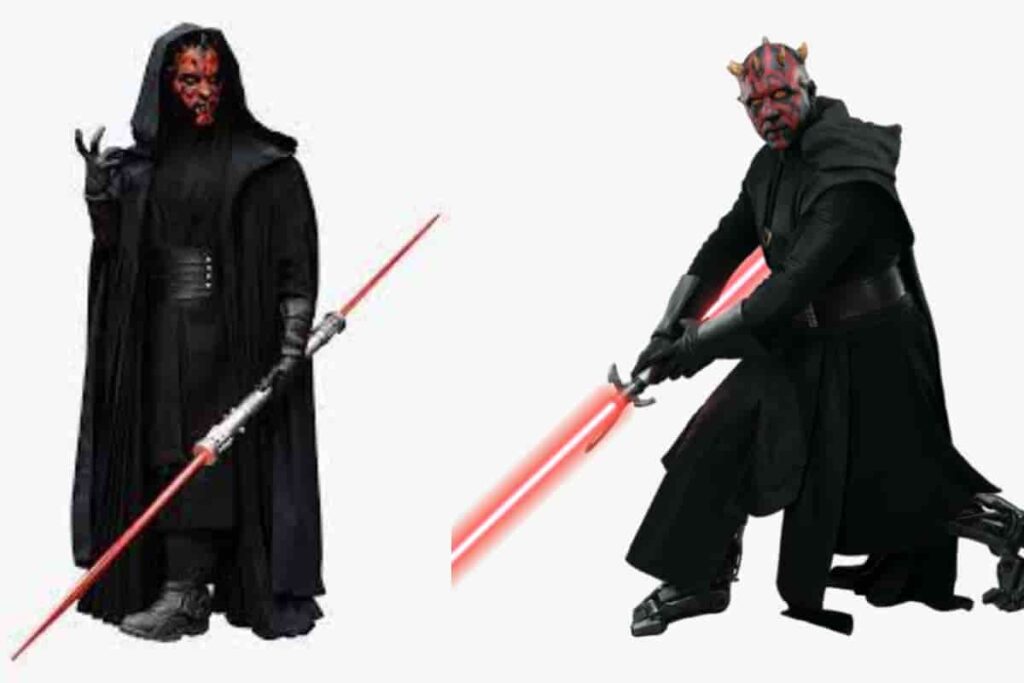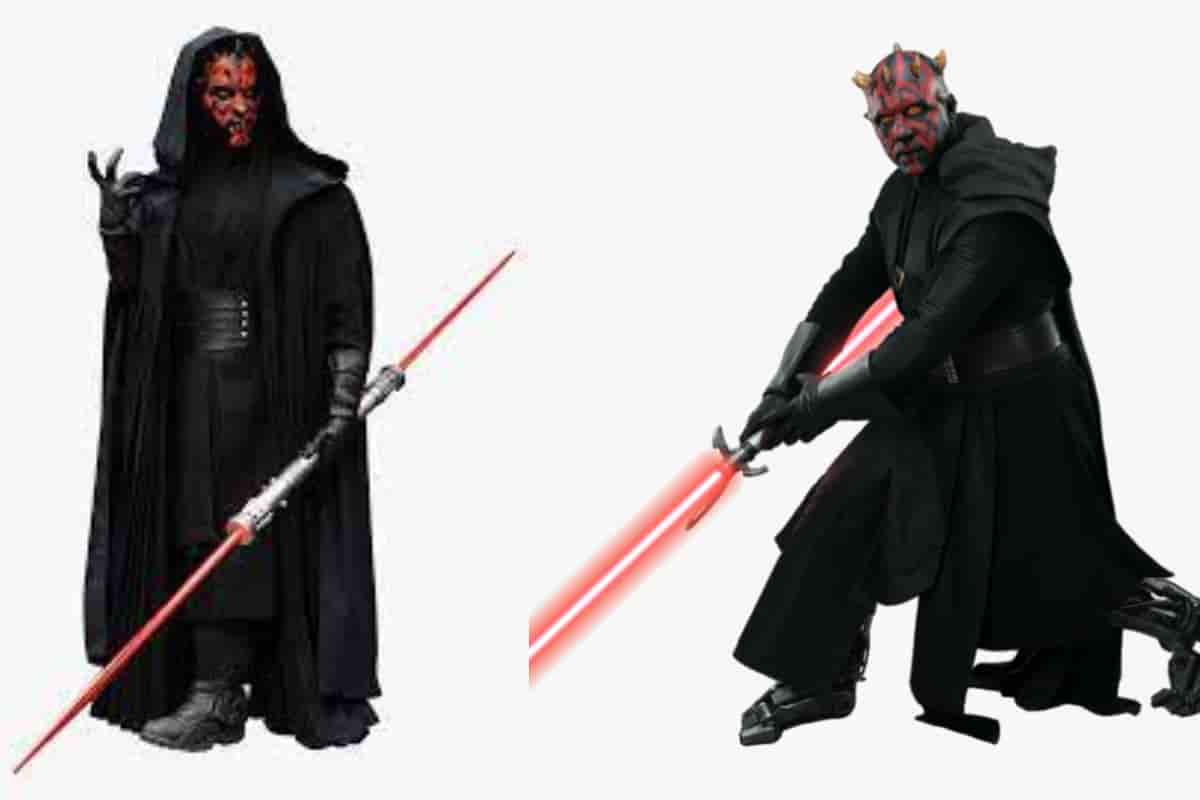 How to make Darth Maul Costume
Darth Maul Black, long-sleeve, mandarin collar shirt (for the undershirt)
Darth Maul wears a black mandarin collar shirt like the one shown in the picture under all those black drapes. An ordinary black turtleneck sweater can be substituted for this shirt if unavailable.
Darth Maul Black, waffle kimono robe
It is possible that you already own this item. This kimono robe is black with waffle patterns. Any black bathroom robe will do, but these are perfect for the costume. The thinner, the better, as you will make a costume heavy on fabric and, therefore, quite warm. Karateegi, or black karate uniforms, also work well. The pants and jacket you'd receive would look like this martial artist's tunic.
Darth Maul Black jersey pants
It is preferable to wear black jersey pants, but all black pants will do.
Darth Maul Long, black, wool shawls (for tabard)
In many ways, Darth Maul's outfit resembles that of a traditional Jedi, except that it's entirely black. This costume includes a tabard as one of its essential elements. The picture shows a few long black shawls you will need for this. Even though any thick material will work, wool is the closest to the original in terms of texture.
Darth Maul's Wide, black waist belt
When Darth Maul is wearing a wide, black waist belt made of leather instead of a waist sash, you can imitate him by wearing a weightlifting belt backward if you aren't interested in the replica.
Darth Maul Black, mid-calf, pull-on boots
The replicas shown in the picture would make an excellent addition to your costume, but if you're on a budget or in a hurry, you could take a pair of black rubber rain boots for rainy weather, which are almost the same.
Dart Maul's lightsaber
When we first saw this double-bladed lightsaber in the trailer for The Phantom Menace, how could we forget it? The good news is that you now have the opportunity to live those times again with this 5-foot replica.
 Darth Maul Black fencing gauntlets
The only difference between this Sith lord and a Jedi is that he wears black fencing gauntlets, similar to those worn by X-Wing pilots. You have to ensure that you get a pair of black leather gloves covering half of your forearms so you won't feel anything.
 Darth Maul's full costume
The link to the entire costume is included below to make things easier for you.
Darth Maul's overall appearance
We remember Darth Maul best as the warrior in his prime, dressed up in black, that first appeared in The Phantom Menace, even though he's been through many changes in design in the Star Wars spin-offs that are still canon with the main lore.
It is worth noting that Maul's outfit is nothing more than a blacked-out version of traditional Jedi attire. All included are an undershirt with a mandarin collar, a tunic, a multilayered tabard, a wide waist belt, gloves, and boots—all black.
You can still get on board the Star Wars hype train. You can dress up as your favorite character from this epic saga, regardless of your side of the force.
Dress up as Darth Maul in a cosplay costume
A Jedi and a lightsaber! Is there anything not to like about Star Wars? You can't help but like the villains as well. Since Darth Maul is one of the most popular characters from the Star Wars series, his costume is just as popular. People are drawn to his creepy red and black face! We aim to make this cosplay as easy as possible for you to recreate. So get started with your next cosplay costume here!
It's first and foremost important to get a Darth Maul costume. Add a Jedi belt bundle to carry your weapons once you've put on the entire costume. Maintain the dark theme by wearing black boots. Put on a Darth Maul latex mask and a long black tunic with a hood to complete the look. The red lightsaber he wields is his signature! Don't forget it! Join other Star Wars characters, such as Padme Amidala, Darth Vader, Luke Skywalker, and Princess Leia, for a group cosplay. Please send us a picture of your awesome costume so we can share it with the world. I wish you the power of the force!
More Post: L Lawliet Death Note Costume 
A guide to the best Darth Maul Halloween costumes
Darth Maul was created to be another villain in the Star Wars series and is known for his black and red-colored face. He uses these colors to represent his dark side and desire to control the galaxy. In both Star Wars films, Darth Maul stands against the Jedi and the Republic and is known for immorality. With this costume guide, you can get Darth Maul's complete look.
Wear a Darth Maul Costume, a Jedi Belt Bundle, a Black Tunic, and a pair of Men's Black Boots to cosplay this sinister Star Wars character. Invest in essential accessories, such as a Double Sided Light Saber and a Darth Maul Latex Mask. 
More Costume Post You May Like