Twisty the Clown was in a horrific accident as a baby. He was hit in the head, resulting in a mild mental handicap. Yet as time went on, his perspective shifted significantly. He used to be a clown until the carnival freaks decided to shame him because he was so excellent at entertaining people. Unfortunately, rumours spread that he assaulted children, which was false.
He was laid off and unable to find a job. Every attempt to sell his whirligigs was met with opposition since people were aware of his tales of child abuse and fury. In desperation, he attempted suicide with a shotgun but only managed to disfigure his face. He now kidnaps children on the FX show American Horror Story, thinking he rescues them from their harsh, candy-denying parents. He murders adults and children and has shown himself to be a true beast!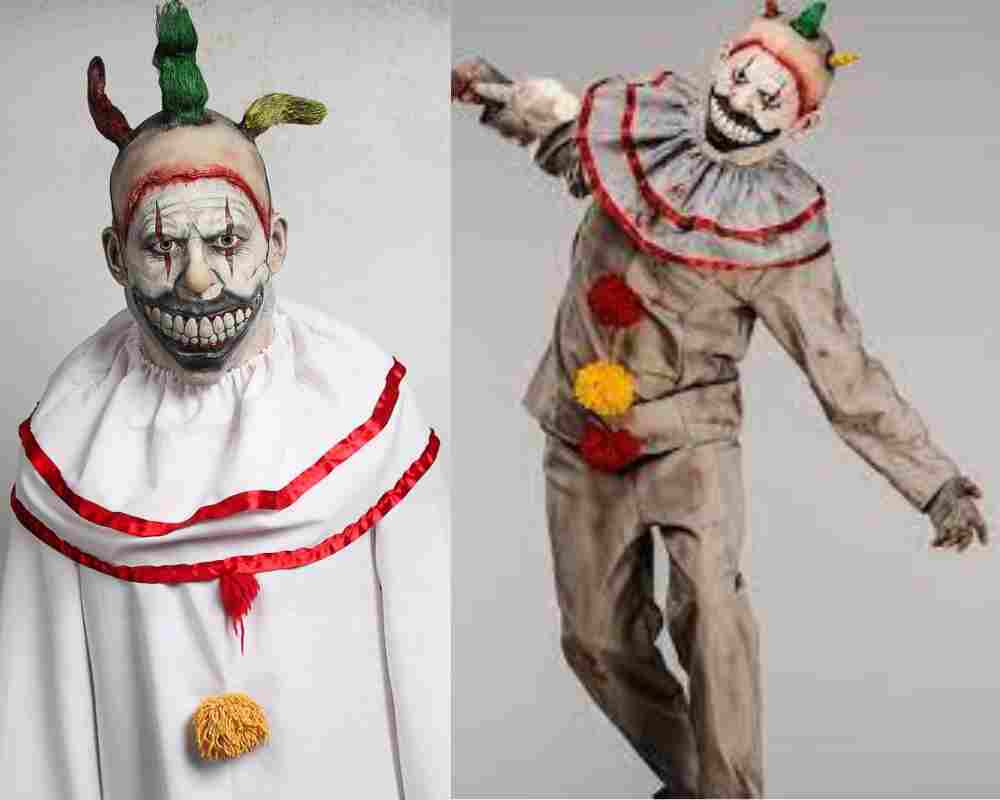 How to Dress Like Twisty the Clown
Clown White Sweater
A plain white sweater serves as an excellent foundation for your costume. Pom poms can be used to make a clown costume. Then add these lace collars on top.
Clown White Pants
Wear a pair of white pants to match your top.
Clown Mask
Wear this terrifying Twisty mask to scare all the children away from you.
Clown Pins
You can't be Twisty without his bloody juggling pins. Use these white clubs and decorate them with fake blood or red paint.
Clown Shears
Another weapon Twisty has is his shears, so you can also bring those along.
Clown Costume Set
Skip the DIY process with this costume set
Clown Leather Mask
One more possibility for a mask
Twisty only wanted to be loved by children. He enjoyed entertaining them and seeing their happy expressions. But his coworkers' jealousy ruined that for him, turning him into the monster he is now.
Twisty was a kidnapper and murderer who truly believed he was acting in the best interests of the children in question. His sense of self-righteousness makes him far more dangerous.
Twisty is dressed as a filthy white clown. His deranged-looking prosthetic grin is a mask to conceal that he no longer has a jaw.
He also brings his juggling pins, which he sometimes uses as weapons. Here's everything you'll need to dress up as Twisty the Clown.
More Post : Dead housewife costume
About the Twisty the Clown
John Carroll Lynch played Twisty the Clown.
To learn more about Twisty the Clown and the other characters from American Horror Story, visit the following websites:
More Post: Fade Eye Shadow Demon's Costume
Guide to the Best Twisted Halloween Costumes
Twisty the Clown is a unique serial killer from American Horror Story. He was dropped on his head shortly after birth, resulting in a minor mental disability. Later in life, he attempted suicide, which left him with a disfigured face, almost like a zombie. He hides his disfigurement behind a grinning prosthetic mask that is just as terrifying as the actual appearance of his face. Likely, he doesn't realize what he's doing is wrong. This costume guide will help you get the full Twisty the Clown look.
Wear the terrifying Twisty the Clown Mask to cosplay Twisty and scare the hell out of your friends. Wear the Twisty Clown Costume next. Get a fake rose and pretend to be a compassionate person. Then put on the terrifying Half Finger White Gloves. Equip the Sirius Training Club to mash unsuspecting victims' brains. Finally, always keep a pint of blood on hand because, remember, you're a serial killer.
Cosplay Costumes with Twists
Twisty the Clown is a terrifying character who is easily misunderstood. He cares about people, or at least he believes he does. But who in their right mind would want to be with someone who has half of his face blown off, wears a creepy prosthetic mask, and kills others whenever he gets angry? No one, that's right.
That's probably what makes him so terrifying and why you should dress up as him. However, don't stop there. Please invite your friends and tell them to dress up as their favourite serial killers. Other cosplayers include Freddy Kreuger, Jason Voorhees, Michael Myers, and many more. One serial killer is bad enough, but a whole group of them!? You'll be scaring people out of their skin, especially during Halloween. And after you've dressed up, remember to submit a picture of your final cosplay. We want to post and share these thrilling photos!
More Costume Post You May Like