When you wear a Raptor skin for Cosplay fun, you might feel like a cocky Air Force brat climbing into the cockpit from the Tom Cruise movie Top Gun. Designed to mirror the uniform of a Royale Air Force Test Pilot, this Raptor skin is a Legendary skin from the video game Fortnite. The Raptor skin can be purchased in the item shop for 2,000 V-Bucks, not to be confused with the Raptor Glider. Get the look of this epic Fortnite skin with our Raptor costume guide.
The yellow and brown costume combines yellow and brown perfectly with a brown bomber jacket, snug blue pants, gloves, and a yellow ski mask. Put on your rugged boots and headphones to complete the look. This Raptor Outfit is not included in any set. However, in addition to its Raptor Satchel Back Bling skin, it is one of the most sought-after skins. Raptor Fortnite Costume for Halloween.
How to make Raptor (Fortnite) Costume
Raptor Fortnite Jacket
You will need the character's jacket to make your own Raptor Fortnite costume. It is a light brown bomber jacket that Raptor wears. It appears that the coat's collar is made of fur.
Heavy Duty Front Zipper Over a Wind Flap for Extreme Winters, Broad Collar like American Flying Aviator Jacket, Two Waist Pockets. Welted Leather Seams, Double Buckle Throat Latch, Heavy Duty Front Zipper Over a Wind Flap for Extreme Winters. The Fur Lining Jacket Is Made with Reconditioned Shearling That Is As Good As New!
Smooth, thick, and buttery sheepskin with a Nappa leather outer shell paired with heavy sheep shearling
At the waist, there are adjustable belted straps.
Raptor Fortnite T-Shirt
It is still possible to tell that Raptor from Fortnite is wearing a t-shirt even though he never appears without a jacket. This element of your Raptor Fortnite costume can be achieved with a simple brown t-shirt.
100% heavyweight, soft jersey-knit cotton is used to construct our classic crewneck pocket tee with a crew neckline. Added durability is provided by extra-strong taped shoulder and neck seams. The tagless labeling eliminates the possibility of chafing on the skin. I think long tails look good whether they are tucked in or untucked.
As a 100% preshrunk cotton shirt, it features a traditional chest pocket, a pencil divider, an oversized fit, and a long tail to accommodate a wide range of work activities. Whether you want to wear it as an undershirt or alone, it's a sturdy, basic t-shirt that can be worn either way.
All others should be judged by the quality of our tagless, sturdy t-shirts. See for yourself by trying one on! Various colors and regular or big and tall sizes are available, so you can wear them alone or as an undershirt.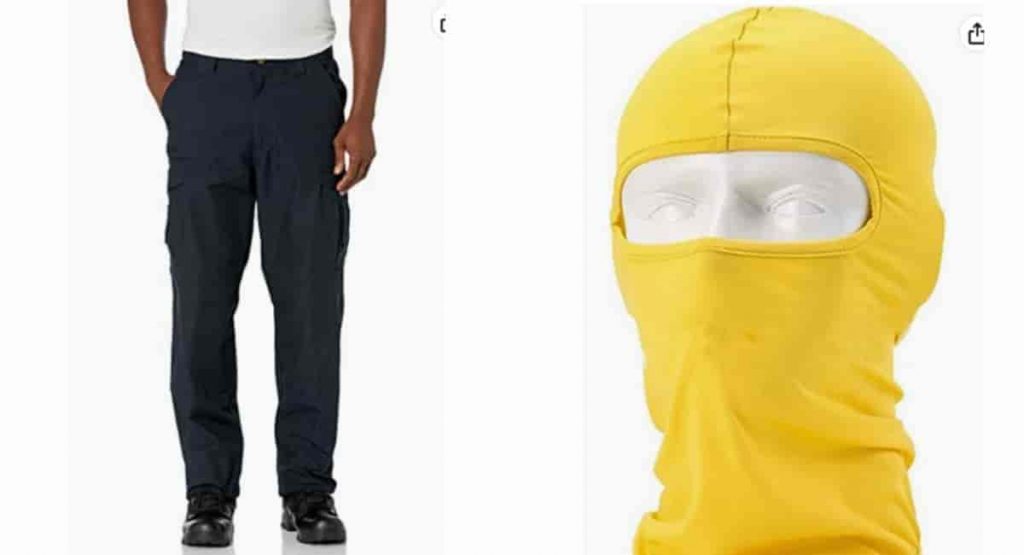 Raptor Fortnite Pants
A pair of tactical pants will complete your Raptor Fortnite costume. A grey pair of pants appear to be worn by Raptor. You could wear a pair of combat pants instead of tactical pants for this Fortnite costume.
Classic men's cargo trousers with YKK brass zipper are stain and fade resistant with a water repellent coating for soil and moisture protection; inside the knee pad opening.
It contains two cargo pockets and two drop-in pockets for cell phones—Reinforced 2.5″ utility pockets for knives or flashlights. There are also badge holders on the front loop that can be used for concealed pockets.
Designed to combat harsh weather when you're on a tactical mission, camping, or hiking, This men's apparel is also suitable for athletics and everyday wear.
Raptor Fortnite Ski Mask
If you want to dress up as Raptor for Fortnite, you will need a yellow ski mask. Raptor's ski mask covers his entire face except for his eyes.
As well as covering his neck, it also pulls down.
A high-quality balaclava that delivers exceptional performance in terms of breathability, absorption, wicking, durability, and resistance to abrasions
Stay Warm and Dry with this Extremely Strong and Durable Cloth. Wrinkle-Free. Lightweight. Stay Warm and Dry. Extremely strong and durable – wrinkle-free – lightweight, portable and comfortable – quick-drying and machine washable.
These multipurpose balaclavas are perfect for skiers, snowboarders, motorcyclists, runners, trekkers, mountain climbers, and hunters. Available in a variety of sizes for women, men, and children.
As an open or closed balaclava, scarf, hat, or face mask, it can be worn with the chin dropped to allow excellent ventilation. It can also be used as extra protection under a helmet. It protects from cold, wind, dust, and the sun's UV rays.
More Post: Best Alice Costume – Resident Evil red dress
Raptor Fortnite Headset
For your Raptor Fortnite costume, you will need a tactical headset. The headset worn by this Fortnite character is similar in design to that used by pilots.
For your Raptor Fortnite costume, you could also use stereo headphones.
Enjoy your favorite game's full audioscape thanks to 50-millimeter directional drivers

When used for extended periods, HyperX's signature memory foam provides maximum comfort

A sturdy steel slider that is adjustable for a solid and long-lasting feel

Intuitive volume control is located on the headset's earcups

You'll always know when you're muted with the swivel-to-mute noise-canceling microphone
Raptor Fortnite Gloves
Rather than wearing yellow rubber gloves while washing up, we recommend purchasing yellow cosplay gloves for your Raptor Fortnite costume.
Gauntlet gloves with long arm cuffs made of sheep leather

Leather fencing gauntlet cosplay gloves for men

501st, Imperial, Medieval, theater, stage, costume, and more!

This above-the-wrist watch is both stylish and practical.
Raptor Fortnite Boots
As part of your Raptor Fortnite costume, you will need combat boots. Ideally, the shoes you choose should be brown and similar to what a soldier would wear.
Our combat boots are made from suede and microfiber to make them light and comfortable while venting, and we use metal buttons to fasten them. They are breathable enough to cope with a wide range of temperatures.

The right size will ensure you will not feel tired when wearing it, no matter what terrain you're walking on. The heel is approximately 1.77 inches (4.5cm), the platform is about 0.98 inches (2.5cm), and the shaft steps are about 6.3 inches (16cm).
Raptor Fortnite Yellow Shoelaces
In Raptor's Fortnite costume, it appears that the laces in his boots have been replaced with yellow laces. Although this isn't essential, it adds a nice touch.
This would be true to the character if you wanted to stay true to it.
With Solid Colors, Fashion! Excellent choice for Running, Jogging, Casual & Fun Shoes; add some color to your life! Compatible with all kinds of Sports Shoes, Casual Shoes, Fashion Sneakers, Canvas Shoes, Casual Shoes, etc.

This shoelace features Flat Shoelaces Design, Texture Fine! Transparent Shoes to Take The Lead Can Restore Shoelaces Are Color Strong and Easy to Use, High-Quality Color Polyester Yarn, Not Late Staining Shoelaces Higher Technology, Guarantee Fastness, Shoes Do Not Rub Off Not Dyed.
Raptor Fortnite Backpack
The backpack Raptor uses in Fortnite is green in color. So while any backpack could be used for this costume, Raptor's is green in color.
He has things like a shovel attached to the side of it, which makes it look like a tactical backpack.
A solid multipurpose backpack with plenty of compartments for storing clothes, toiletries, and other essential gear. This backpack is water-resistant, making it ideal for combat, range, survival, or hunting.

The accordion zipper means you can shrink it to a smaller bag when you don't need the extra room or expand it to 5 inches deeper for more gear. You'll be amazed at what you can do with this backpack. It can be used as a bug-out bag or 72-hour emergency kit.
Raptor Fortnite Bullet Strap
To wear your Raptor Fortnite costume, you will need a bullet strap across your chest. If you cannot find a bullet strap, you can use a belt instead.
Raptor Fortnite Leg Strap
For your Raptor Fortnite costume, you will need three tactical leg straps. The character wears a tactical belt at the top of his left leg and two tactical straps on his thigh.
This cable organizer is perfect for power cords, audio cables, coaxial cables, telephone lines, electrical wires, etc. Organize your cables and cords and avoid messy tangles!

Organize power cords for laptops, PCs, audio/TV equipment, video game systems, phone and tablet chargers, etc.

The hook and loop closure is always reusable. Add, remove, or adjust your cables whenever necessary – the nylon adhesive strap and plastic buckle are durable!
Raptor Fortnite Knee Pads
For your Raptor Fortnite fancy dress, you'll need black knee pads. The knee pads worn by Raptor look like tactical knee pads, which are easy to find. However, you may be able to use skateboard knee pads if you spray them black.
Designed with high-density foam, good elasticity, and breathable fabric to keep skin dry and comfortable.

An ideal knee protector for outdoor sports, ergonomic design, super lightweight, and freedom of movement.

Increasing blood circulation, keeping muscles and joints warm. Effectively impact-proof, preventing and reducing stiffness.

Excellent Grip, Non-Slip Feature! Quickly put the knee pads on and forget that youThis kneepad provides excellent grip and non-slip properties, making it easy to put on and forget that you have it on. It firmly hugs the knee as it does not need constant re-adjustment. I had them on! That's how comfortable it is while in use. No constant re-adjustment is required as it firmly hugs the knee!
Raptor Fortnite Shovel
The final part of your Raptor Fortnite fancy dress is a shovel. It should have an extendable handle.
You should attach the shovel to the left side of the backpack you will be using.
Heat treatment enhances the durability of the Head

Chips and rust are resistant to the long-lasting coating

The grip is comfortable, soft, and textured with a rugged, high-impact thermoplastic ferrule.

The convenient hanging ring makes storage a breeze.
Raptor Cosplay Costumes
Celebrities and athletes alike have shared their enthusiasm for Fortnite Battle Royale, which has captivated more than 125 million players since its release in July 2017. 
Cosplay outfits can now take advantage of the ever-growing popularity of Fortnite Battle Royale by slipping on one of its most popular skins, the Raptor.
The Raptor skin is one of Fortnite's earliest Legendary skins and is always highly sought after. With a striking yellow, brown, and blue ensemble, it's no wonder the Raptor skin is one of the most popular.
About Raptor
Immediately following the incredible success of PlayerUnknown's Battlegrounds, Epic Games launched Fortnite in 2017, with the perfect timing for creating their battle royale mode. A game version was soon offered as a free-to-play variation funded through microtransactions for nonessential purchases in the app. Likewise, the in-game currency, V-Bucks, allows players to purchase or earn cosmetic items to customize their characters further.
Upon deploying a glider on a land mass with several landmarks and, more importantly, buildings that can yield weapons and shields, the player or team is left standing. The last player or team remaining standing in a constantly shrinking safe zone wins.
More Post