Beth Greene may be an underappreciated character on AMC's The Walking Dead, but she is far from weak or undeveloped. She impressively adapted to the new, horrible environment where she witnessed people being devoured, slain, and tortured for an innocent person who grew up on a farm. Even when informed differently, Beth refused to believe no kindness was left in her. She is a lovely girl with a decent heart who is always willing to help in any way she can.
She may not be physically strong, but she is psychologically tough enough to accomplish what is required. Beth Greene's most admirable personality quality is her ability to put others first. She prioritizes the needs of others before her own. Her girlie demeanor combined with such a powerful personality is what distinguishes her. It's the reason she's one of the finest Walking Dead cosplayers.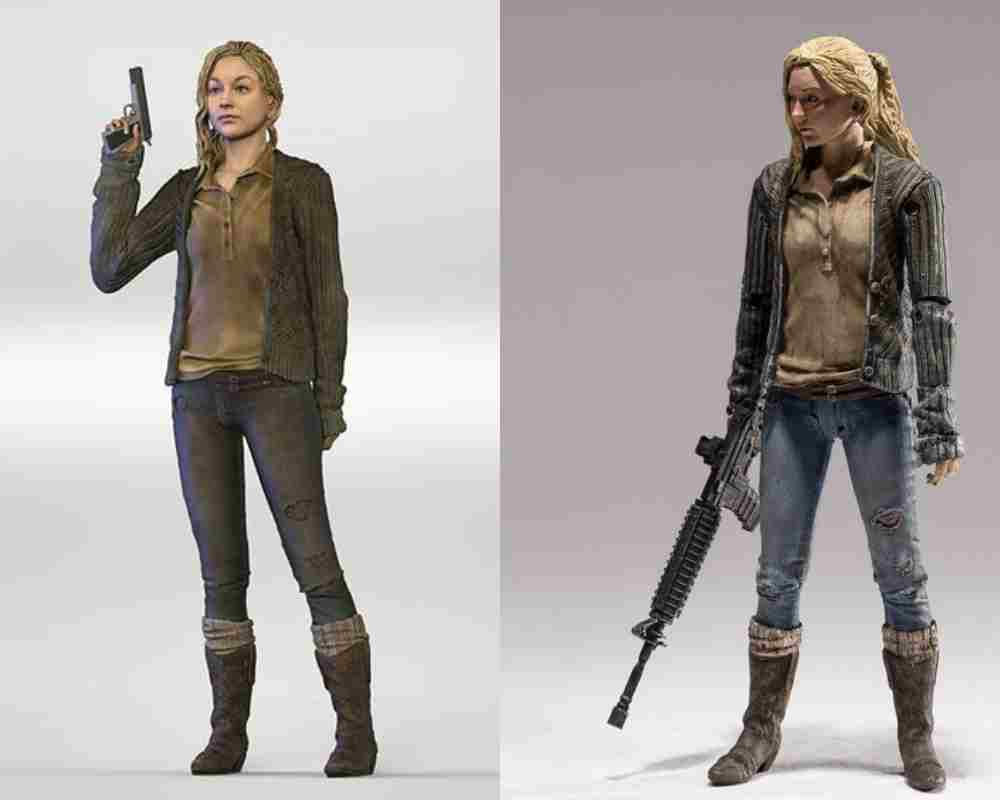 How to make Beth Greene Costume or How to Dress Like Beth Greene
Beth Greene Loose Light Green Tank Top
Because she does not wear any sleeves, Beth can move her arms more freely and effectively use her knife to sever the necks of walkers.
Beth Greene Gray Cropped Tank Top
When she wears clothes without sleeves, Beth often gets a little chilly. In the world after the apocalypse, layering your tank tops such that one is on top of the other is an excellent way to appear fashionable. It also has the potential to provide extra heat.
Beth Greene Ripped Light Denim Jeans
Even after the end of the world, people will still want to wear pants made of denim. The one that belongs to Beth is in such poor condition that it even has a few tears.
Beth Greene Gray Mid-Calf Boots
The weather and vegetation may be effectively defended against by wearing boots that go up to the calf. This pair is quite helpful to Beth whenever she is out and about because of how comfortable they are.
Beth Greene Off-White Leg Warmers
There are some chilly days when she can't rely on her shoes to keep the chill at bay. As a result, she protects her legs from the cold nights by donning a pair of leg warmers that are off-white.
Beth Greene Costume Hunting Knife
There are situations in which a firearm alone is not sufficient as a means of defense. When Beth needs to fight at close range, a hunting knife is a fantastic option for her to have. Those walkers are no match for her ability to stab and slash them.
More Post : Misty Pokemon Costume
About Beth Greene
Throughout her time on The Walking Dead, this innocent (well, not so clear now) and cheerful lady won the hearts of many viewers. Beth, being a highly optimistic individual, raised the spirits of her group and developed close ties with them. That is why her death came as such a shock.
Few people understand that Hershel (her father) and Beth died in identical circumstances. During discussions between the two organizations, both were killed in the middle of the season.
She may have started meek and timid, but this young girl swiftly rose through the ranks to become a seasoned survivor who her classmates looked up to. Beth Greene may be younger and have less experience than some of her groupmates, but she has repeatedly proven that she can do what they are capable of doing.
Beth dresses in clothing that displays her youth while being comfortable enough to kill walkers. She is dressed in two layers of clothing, comfortable denim pants, and protective boots. Everything you need to appear like Beth Greene is right here.
Best Halloween Costume Ideas from Beth Greene
Beth Greene is a fictional AMC television series The Walking Dead character. She is Hershel Greene's daughter and Maggie Greene's sister. She grew raised on her father's farm, which had been in the family for almost 160 years before the zombie breakout. She is known to be a devout girl who abstains from drinking.
Dress like Beth Greene to seem like a bold lady who doesn't give up easily. Begin by donning a basic cotton tank top, ideally a little dirty. Wear a black Vintage Navy Racerback Tank over it. Wear a pair of Distressed Skinny Jeans kept together by a Vintage Elastic Leather Belt. Wear a high-quality pair of Grey Cashmere Socks with antique Tan Denver boots on your feet. Put on her distinctive Double Heart Pendant Necklace and Leather Cuffs as a finishing touch. Remember to bring your trusty Toy Knife With Sheath to dispatch the walkers.
More Post: Teen Titan Raven Costume
Costumes for Beth Greene Cosplay
Beth Greene is like a flower sprouting through concrete. The zombie pandemic has toughened her, but she hasn't lost her childlike optimism and innocence. Use a blonde wig or briefly bleach your hair blonde and style it like Beth if you're feeling brave.
It's never a good idea to venture alone in a zombie apocalypse. Join your pals and form your survival team. Make one of your team members the 'Sheriff.' Plus, with The Walking Dead's broad cast of characters, everyone in your group will undoubtedly find a character to relate to. If you're seeking inspiration, check out The Walking Dead's other costume guidelines! Please share your cosplay creations!
More Costume Post You May Like