Despite being the son of a Fairy Godmother, Prince Charming has been dreadfully spoiled by her. Because of this, he is arrogant and selfish and doesn't seem to have a great deal of intelligence. In addition to being remorseless, Charming is dangerous because of his cowardly actions.
There is something feminine about Prince Charming, and he is very concerned with his appearance. His outfit consists of a striped inner tunic, a short-sleeved blue tunic with gold details, a black belt, knee-high boots, and dark, fitted tights.Lets Learn more Prince Charming (Shrek) Costume for Halloween.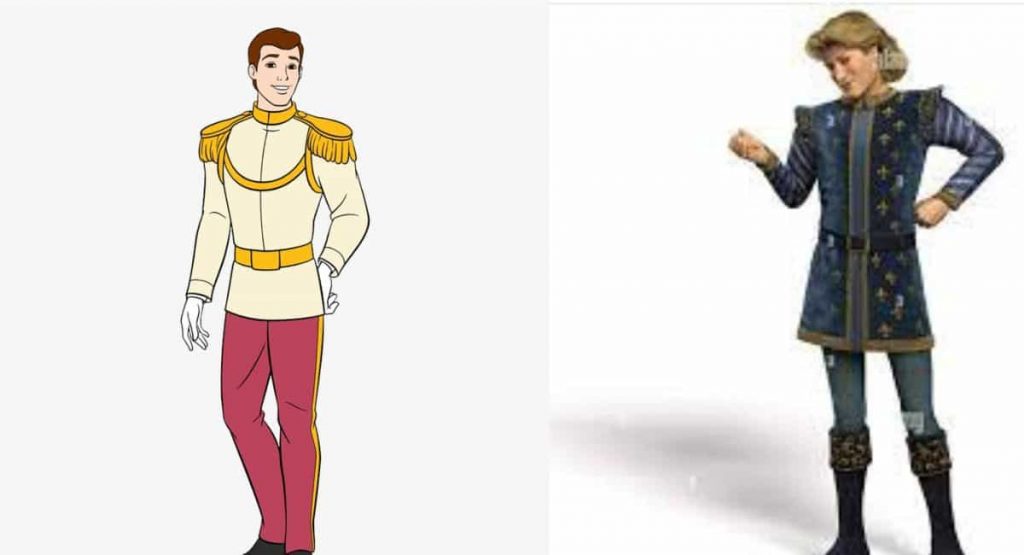 How to Make Prince Charming Costume
If you want to dress up as Prince Charming for Halloween, you'll need the following items:
1. Blue Striped Long Sleeve
The first step in creating your outfit is putting together a simple blue, striped, long-sleeved T-shirt.
2. Navy Renaissance Waistcoat
Your shirt should be topped with a blue Renaissance tunic.
3. Iron on Gold Patches
Add golden patches to make your tunic look extravagant.
4. Gold Lace Trim
Put gold lace trim on your clothes to make clothes look like the epitome of fashion.
5. Dark Grey Tights
Put on a dark gray pair of tights for your bottom half.
6. Black Knee High Boots
Adding a pair of knee-high boots to your outfit will make you look extra snazzy.
7. Blonde Short Wig
It is no secret that Prince Charming is most proud of his luscious blonde locks, so if you must wear a wig, do it with pride.
8. Black Belt
Don't forget to accessorize with a black belt to complete your look.
9. Sword Prop
While a sword is not the bravest of accessories, it can help you look like Prince Charming, extra dashing.
Dress Like Prince Charming From Shrek
Put on your best Prince Charming costume;
As Prince Charming in Shrek, he wears a blue tunic with star emblems, gold designs, and gray leggings.
Princess Charming Wig: Princess Charming has blonde wavy hair that reaches her neck.
You'll need a long sword and a black medieval belt to complete your Prince Charming costume.
More Post : Shea from Total Drama Island
Prince Charming Halloween Costume
He is portrayed as a selfish and arrogant mother boy in Shrek 2 when he tells his story. Besides being something feminine, he's also something handsome, which Shrek makes fun of. Because he pretends to be Shrek, he is sometimes not very intelligent. Fiona doesn't realize that he has to act like Shrek to make her laugh. He was also very offensive to Shrek for calling him "terrible." In his final moments, he believed that Shrek had stolen his "Happily Ever After" with Fiona.
Prince Charming Cosplay
Harold killed his mother in Shrek 2, and he attempted to avenge her death in Shrek III. In contrast to Harold, he had no qualms about how they would affect Shrek, unlike Harold, who had conspired with them in the past. As well as never getting along with Shrek, even though his mother and little henchmen pretended to be them, he was the only villain Shrek did not trust. Also, Shrek shares similarities with Lord Farquaad and Rumpelstiltskin; on the one hand, they both wanted to marry Fiona to become king, while Shrek's rescue from Fiona accidentally destroyed their lives.
There were four villains in the Shrek films: Farquaad, Fairy Godmother, Charming, and Rumpelstiltskin, of whom Charming made the most appearances in Shrek 2 and Shrek the Third, as well as creating a cameo in Shrek during the clip Forever.
More Post