Jyn Erso, a soldier in the Rebel Alliance, had a troubled childhood that set the tone for the rest of her existence. Saw Gerrera, an extreme rebel, raised her and rapidly went from being a survivor to a rebel warrior. She was the daughter of the scientist Galen Erso, who had been imprisoned. She is no longer the frightened little girl who was forced to run away with her life and find a way to exist without the direction of her parents. Instead, Jyn is a ferocious and mighty warrior actively engaged in the battle to overthrow the Empire. She has a strong sense of responsibility and is committed to the cause her father fought for. Thus, she is willing to give her life to stop the damage inflicted by the Imperial troops.
Jyn Erso is arrogant and cynical since she has had to battle for her existence and has succeeded most of the time. She is now a leader, a warrior, and she will stop at nothing in her quest to bring down the creature who robbed her of the life she intended to live. She gained this experience by going up against the most powerful force in the galaxy. Her self-assured demeanor can never completely hide the fact that she was once a helpless youngster. Nevertheless, she overcame her circumstances by developing the ability to stand up to things she intuitively understood to be unethical. It's time to make a Jyn Erso Star Wars Costume.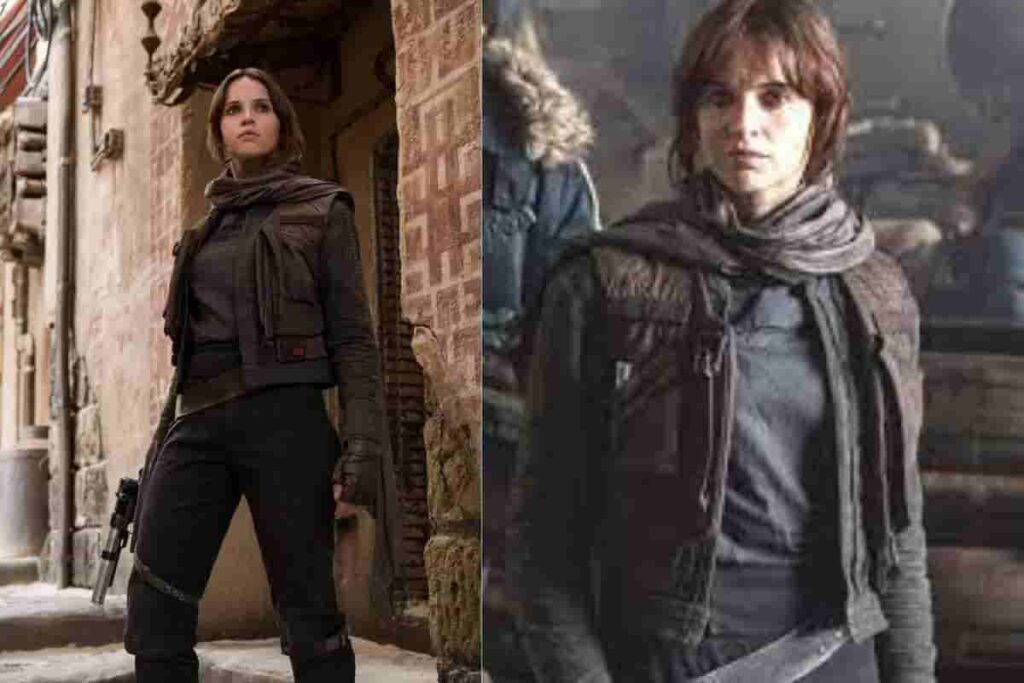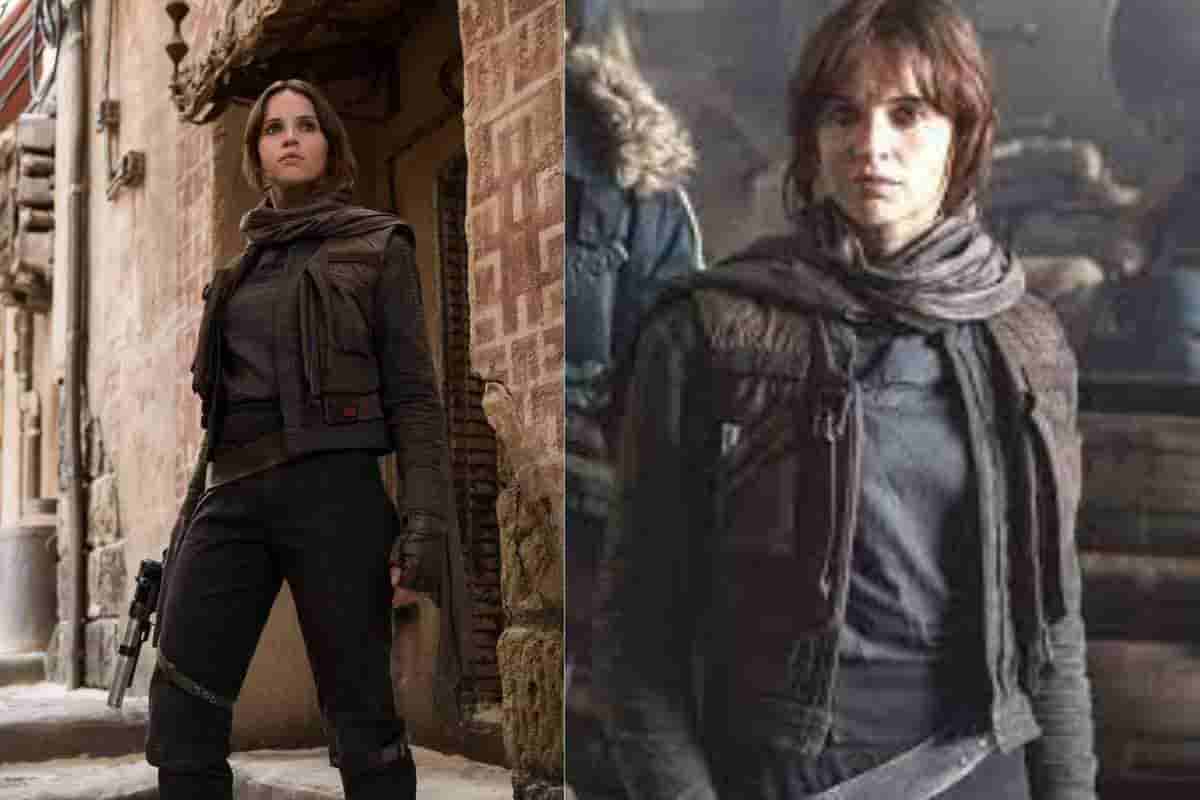 How to make Jyn Erso Costume
Jyn Erso Jacket
It is common to see Rebels wearing the same uniforms. However, each character has a few details that make them unique. For example, Jyn's jacket has a unique color combination and exciting patterns.
Jyn Erso Scarf
This scarf is another of Jyn Erso's unique pieces, distinguished by the exciting scarf patch that adorns it.
Jyn Erso Boots
The brown leather boots of this Star Wars character are pretty interesting, as they have a buckled upper. Even though these boots look pretty standard, you can easily find similar ones. Here are custom-made boots that look like the original ones if you want to cosplay Jyn Erso realistically.
Jyn Erso Charcoal Military Pants
Compared to previous pieces of clothing, these pants aren't unique, but they will do as well as earlier reports of apparel. Look for any charcoal or dark gray pants; these will work fine.
Jyn Erso Belt with Gun Holster
Since she is a rebel and always carries a weapon, a holster is essential to the outfit. Find a belt with a holster attached to it that will do the trick.
Jyn Erso Blaster Gun
There is no doubt that Jyn Erso is a great blaster gun specialist, even though she doesn't possess a lightsaber.
Jyn Erso Kyber Crystal Necklace
An item of jewelry that Jyn wears in the movie when she is playing the role of Jyn
More Post: Brock Pokemon Costume for Halloween
About Jyn Erso
When Imperial soldiers tried to take her father, she could get away. But unfortunately, her mother perished on the other side of the conflict. Jyn Erso, who Felicity Jones portrays, was brought up by Saw Gerrera, as was the case. On the other side, her father was coerced into developing the horrific superweapon known as the Death Star. Despite this, her father, Galen Erso, was able to communicate to the rebels that he was in the process of developing a new superweapon. In addition, he transmitted blueprints that highlighted the vulnerable areas of the death star, which was an essential element to the accomplishment of the objective to destroy the superweapon.
Jyn Erso is fighting against the Empire for several very compelling reasons. When she was just a young child, she was kidnapped and made to work on constructing a superweapon known as the Death Star. On the other side, her mother was put to death by Imperial soldiers as she fought back against them. Jyn, when she was a child, managed to get away, and Saw Gerrera not only reared her but also educated her. As a result, she became a ferocious combatant, becoming a female version of Han Solo.
A fantastic option would be to dress up as Jyn Erso through cosplay. This individual dons several garments that are, taken together, rather lovely. She incorporates a number of her distinctive touches in addition to a few standard elements of rebel outfits. Her jacket, one of the trademarks, and a patched scarf are also trademarked. Brown boots, in addition to fingerless gloves, have a distinctive component that makes them somewhat unique. On the other hand, the trousers and holster appear to be quite a standard issue.
Here's a guide to the best Jyn Erso Halloween costumes
Dress up as Jyn Erso, the newest hero to be introduced in the film Rogue One: A Star Wars Story, which Felicity Jones in the role represents. Jyn was recruited to help steal the schematics for the Death Star because of her past as a criminal who fought for the Alliance. You may become a member of the rebel alliance by purchasing her costume, which includes a pair of Funtasma Boots, an Infinity Loop Jersey Scarf, a Brown Cargo Vest, a Short Sleeve Slub T-Shirt, a Long-Sleeve Notch Neck T-Shirt, a Cargo Multi Pocket Pant, and a Brown Cargo Vest. Then, fight the Empire while wearing the complete Jyn outfit by donning the Brown Fingerless Leather Gloves and the Belt and Holster.
More Post: Deadshot from Suicide Squad Costume for Halloween
Inspire your cosplay with these Jyn Erso costumes
The character Jyn Erso is developed further in the film Rogue One, which is part of the Star Wars franchise and yet another installment in the series. Jyn is a welcome addition to the cosplay community, as there are few powerful female characters to choose from. This feisty warrior, sometimes compared to a female version of Han Solo, is straightforward to depict if our thoughts on style are followed. She will be in the fantastic company alongside other cherished Star Wars characters, such as Leia or the newcomer Rey if you are interested in advocating for women's empowerment. Additionally, cosplayers who are father and daughter can take the traditional way by having the father portray Galen, Jyn Erso's abusive father. Because there are so many movies and novels from which to choose, the possibilities for Star Wars cosplay are virtually unlimited.
One of the benefits of dressing up as a rebel soldier is that the costume items you need are already in your closet most of the time. However, your appearance will be more menacing if you have a little coating of grime all over your face. Please look at our pictures for fresh ideas on improving your Jyn Erso cosplay, and then send us a picture of what you've come up with!
More Costume Post You May Like