The television shows Vikings air on the History channel, and one of the key characters on the show is named Lagertha. She is the mother of Bjorn Lothbrok, whose father is Ragnar Lothbrok, whom she married. She is a courageous and self-reliant person who prioritizes family and is ready to defend her spouse and children whenever they are in danger. She began her career as a shield-maiden early and has developed into one of the most formidable combatants on the program. She is admired by many for being so trustworthy and for the fact that she never compromises her principles. Still, as with any exceptional individual, some view her as a danger and consider her unfit to lead. Come on, let's make Lagertha Vikings Costume.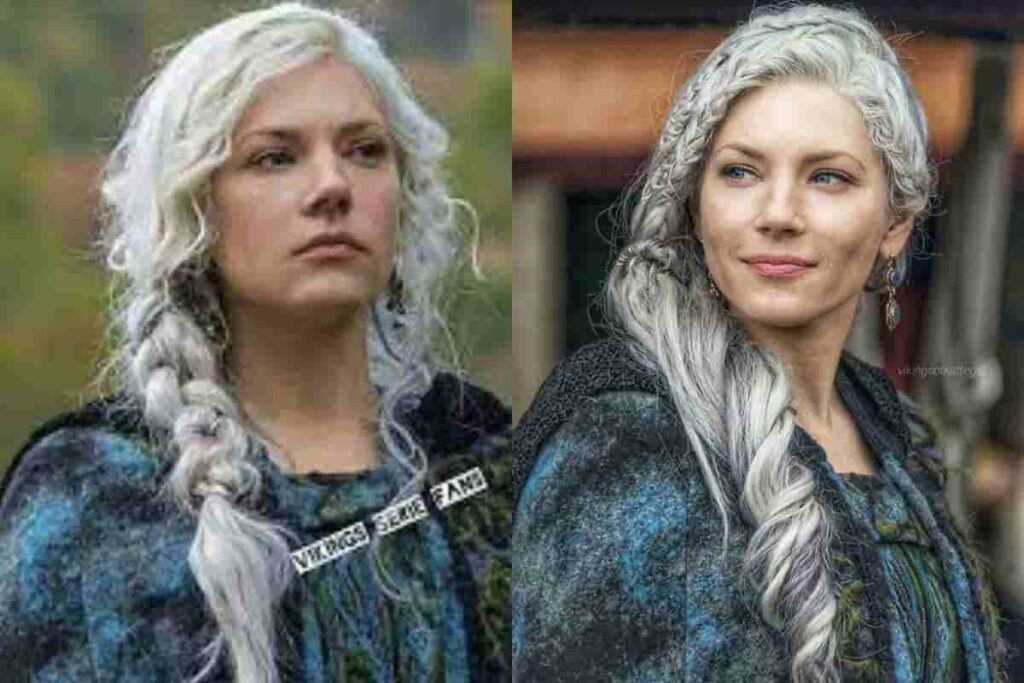 How to Make Lagertha Costume
Lagertha Blue Long-Sleeves Shirt
Make your Lagertha costume out of a blue long-sleeved shirt that will serve as the base for your outfit.
Lagertha Chain Mail Shirt
An extra layer of chainmail can be added to your battle outfit in order to provide you with sturdier protection.
Lagertha Brown Leather Corset
The top of Lagertha's clothes is kept snug by the brown corset she wears at the back of her neck.
Lagertha Brown Pants
Brown jeans make an excellent choice for those who prefer natural colors.
Lagertha Black Riding Boots
Wearing dark boots will provide your feet with ample protection from the elements.
Lagertha Long, Braided Blonde Wig
The long, braided hair of Lagertha can be achieved with the help of this wig.
Lagertha Leather Gauntlets
Brown leather gauntlets will provide the protection you need to protect your arms during battle.
Lagertha Wooden Viking Shield
Make Lagertha's shield from the plain Viking shield by using it as the base for her protection.
Lagertha Light Blue Acrylic Paint
In order to make your shield look more like Lagertha's shield, you should paint the inner circle a light blue color.
Lagertha Dark Brown Acrylic Paint
Using dark brown paint, you can add the other details to Lagertha's shield using darker brown color.
Lagertha Costume Set
With the help of this costume set, you can quickly transform yourself into Lagertha in a matter of minutes.
More Post:  Deadshot from Suicide Squad Costume
About Lagertha
Katheryn Winnick was the actress who played the role of Lagertha. In addition, Winnick is well-known for her performances in the films The Dark Tower, Stand Up Guys, and Killers.
You may learn more about Lagertha and the other characters from Vikings by checking out the following websites: Lagertha is not only the first wife of Ragnar Lothbrok but also his ex-wife. She was also the former queen of Kattegat. She is not the type of person who shrinks away from a fight. This fearless female shield-maiden battles side by side with her male comrades. Even though she is very caring toward those closest to her, she is violent toward people she regards as her enemies.
Lagertha embodies the spirit of a female warrior and dresses in a manner befitting the field of combat. Her attire consists of a long-sleeved blouse in blue, chainmail armor, a brown corset, brown leggings, a pair of dark boots, arm gauntlets, and a long, blonde wig with braids.
A guide to the best Lagertha Halloween costumes
In the popular television program Vikings, which airs on The History Channel, the character of Lagertha, a brave shield-maiden, is portrayed by Katheryn Winnick. In the episode, she battles alongside the Norse warrior men. After the death of their second child, the faithful woman who had previously been married to King Ragnar Lothbrok married another man. A Brocade Steampunk Overbust Corset, a Long Sleeve V-neck Slim Fit T-shirt, a Vintage Blue Maxi Side Split Skirt, Hue Women's Ultra Suede Leggings, and a 2 Piece Faux Chain Mail Hooded Dress are all you need to join the Viking warriors. Do not go into battle without putting on the whole outfit, consisting of the Squires Leather Bracers Armour, the Medieval Ring Belt for Women, the Vybe Women's Lauren Slouch Boot, and the Lagertha Viking Custom Shield, and the Norse Legacy Viking Foam Sword. Lastly, replicate Lagertha's hairstyle by following an instructional video on YouTube.
More Post: Deathstroke Costume for Halloween
Cosplay costumes for Lagertha
Would you want to participate in a cosplay event as one of the most well-known characters from the blockbuster television program Vikings? If this is the case, your search is over since Lagertha satisfies your requirements. You have the option of cosplaying as either the Lagertha from the beginning of the series, who is a brave shield-maiden, or the Lagertha from later on in the story, who is an earl and leads an army! If you have some friends who want to go to Comic-con with you as a group as Vikings, then you can all go as a band of Vikings and have them dress up as Ragnar Lothbrok, the king, or as Floki, right hand of the king. This is an option if you have some friends who want to go to Comic-con with you as Vikings. To complement your costume, you may also consider arming yourself with a Viking sword or the shield that Lagertha used. Feel free to look at the photographs displayed here for some cosplay ideas from other Vikings fans, and feel free to email us a picture of how your Lagertha costume came out!
More Costume Post You May Like